Deals Episodes
Designer Handbags on a Budget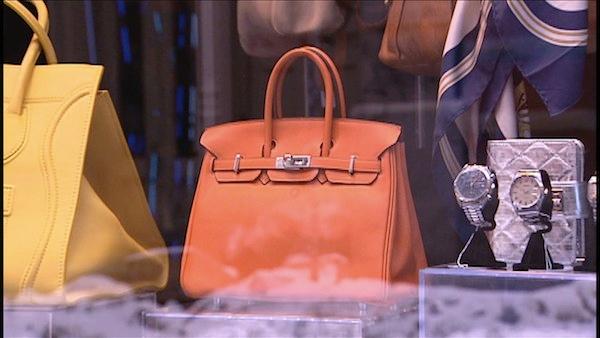 If you've longed to own a high-end, luxury handbags, Deals is showing you where to find them for 80 percent off the retail value.
A daring pop of red, a splash of eggplant or classic black, nothing sets the runway look quite like a beautiful handbag! "Prices here at LXR and Co start from $39 all the way up to $20,000 so there's something here for everyone," said Beth Komosinski. LXR & Co. is one of the newest players in upscale, pre-owned, vintage accessories. "Our discounts vary, but you can save almost up to 80% off the retail prices here," she said. If you never thought you could afford a luxury bag, chances are it may no longer be just a dream. "We carry all Hermes, all Hermes Birkins and Kellys, we carry Chanel, we carry Louis Vuitton, Balenciaga, Gucci, you name it we have it here," said Beth. LXR allowed Deals to borrow a few bags to help us achieve our 'Red Carpet' look:
Purple Ferragamo Shoulder Bag: Retail: $850 LXR: $150
Red Louis Vuitton Clutch: Retail: $950; LXR: $400
Black Chanel Shoulder Bag: Retail: $2,300 LXR: $1,500 "We get our merchandise from all over the world and from clients that are looking to sell. We ship Europe, Canada, and the United States," Beth says. "All the products, before they even go online or into the stores, they go through a quality control process." Each product is rated depending on its condition and that determines the price. "We have a team of authenticators, and curators that look through all the products before its put online or in stores to guarantee that it's 100 precent real, and it's not a knock off," says Beth. "We look for the serial code and then we also look for the details on the handle it's very specific, and also the thickness of the leathers. And then also what we look for in bags is the bottom of the bags on the four edges, to make sure that they are aligned correctly and then also the detailed line stitching at the bottom of the bags." Aside from the online shop, LXR has two boutiques in LA and New York. If you really want to dream - check out the Hermes Birkin Bar - every A-lister has one of these! "So here is our Hermes Birkin Bar, where you can come in and browse and shop the largest selection of Hermes Kellys and Birkins," Beth says giving Deals a tour. "What's great about the Hermes Birkin bags is that we give you guys great deals , so Hermes when you think of Birkins you think of $20,000- $30,000 handbags. Here at LXR and co we have bags that range from $14,000 up to $17,000, so you're getting a significant discount." There truly is something for every budget! For more information about LXR & Co, visit
lxrco.com.
Handbag Rental Sites:
BagBorrowOrSteal.com
ArmGem.com
LoveMeAndLeaveMe.com