Deals Episodes
Decorating Book Shelves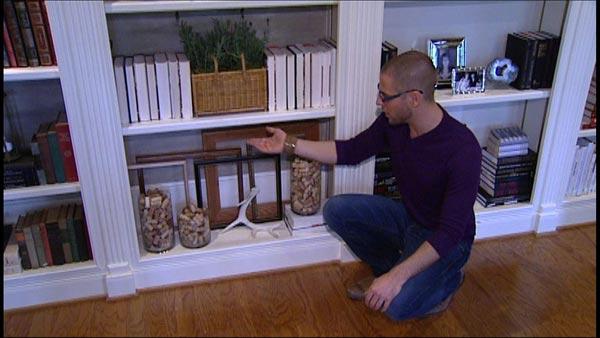 Bookshelves are a place where you display some of your favorite items. But you don't have to hire an interior design expert to make your bookshelves stand out.
"A lot of items that a lot of homeowners have are a collection of memories and so you want to pull together those items in a common theme that can be a wonderful backdrop to your everyday life," said Ben.
Simple tips from Avondale Design Studio's Ben Johnston:
1. Don't layer too many things in their bookshelves. Books and collectables can be a great source of color and collectables in a space. But many times homeowners cram every single thing they own into bookshelves - as a result it looks very jumbled and messy.
1. Remove everything from your bookshelf. This allows you to kind of observe the backdrop and see what space you are working with.
2. You want to take stock of what you have, what books you want to keep, what collectables you want to display and you can start thinking of what unifying themes can pull it all together.
3. Once you figure out what you have to work with, pick a theme and go from there.
4. Ben recommends using color as a back drop to set the stage for the shelf. He loves using a traditional grass cloth but that is an expensive option. A more cost effective option is to use craft paint that can simulate grass cloth.
Shabby Chic - This style of book shelf features vintage items and more natural earth tones. Turn your books around and allow the papper edges to be seen or wrap your books in brown craft paper. And, if you have old picture frames you don't know what to do with? Don't toss them out, stack them up and display them on one shelf. Fill some glass containers with wine corks.
Polished Transitional - This style is inspired by old world libraries and offices. It looks great if you have a collection of older books -- either leather bound or hard covers. Dispaly your books in different ways -- stack some vertically, place objects on top of books. And, don't overcrowd your shelves. If you have an outlet, try adding a lamp.
Mid Century Modern - Add drama to your shelves using a traditional modern look. Group your books by color. And a pop of color by looking in your kitchen for a colorful vase or plate to display on your shelf.
Ben Johnston is a partner with Avondale Design Studio. For more information, visit www.avondaledesignstudio.com. Special thanks to Penny Laird at Wall Coverings International, Inc. for supplying the wall covering samples you saw provided during this segment. Visit www.wallcoveringsintl.com for more information.