Deals Episodes
DIY Updos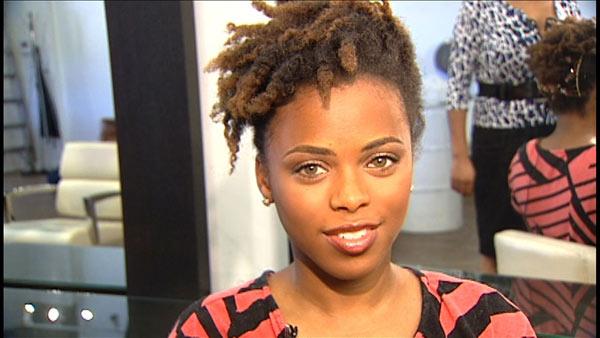 You don't have to go to the salon to have your hair styled in an updo. You can do it yourself with these tips!
"If you're going to a salon and you want an updo for a special occasion you may spend anywhere from $60-$100 depending on how elaborate the style is," Tamika Fletcher of Natural Resources Salon says.
According to Jessica Contreras of Aurea Salon and Spa, "You can get these looks in not a lot of time -- you can go to any convenience store and get any of these accessories from $1 to $6. The main part is don't over think it. This is supposed to be fun -- they're supposed to be simple all of them took under 5 minutes so really it should be fun and easy for you to do at home."
LOOK 1 - THE CHINGON
Step 1: Prep the hair with texturing cream and smoothing fluid. The more product the better!
Step 2: Pull hair into a high ponytail. Flip the ponytail forward. At the last inch of the hair put a small rubber band.
Step 3: Flip the ponytail back and add 2 large bobby pins at the base of the ponytail.
Step 4: Flip the ponytail back over and tuck the tail in at the base of the ponytail.
Step 5: Secure with a bobby pin and add hairspray.
LOOK 2 - PARTY PONYTAIL
Step 1: Spray your hair with a ton of hairspray.
Step 2: Section off the top half of the hair ad pull the bottom side into a high ponytail.
Step 3: Tease the top half of the hair. Cover the ponytail with it.
Step 4: Take the whole top section, pin it to the base of the ponytail and wrap ends around the ponytail holder.
Step 5: If needed, spray down fly-aways to keep sides smooth and sleek.
LOOK 3 - THE TOP KNOT
Step 1: Prep our hair with hairspray. Use a liberal amount!
Step 2: Pull the ponytail at the very top of your head. Take little sections of ponytail and tease them. Get your ponytail as big as you possibly can.
Step 3: Smooth out the hair and wrap around in a bun and pin as often as needed.
Step 4: Jazz it up with a hair bow or accessory.
LOOK 4 - FAUX BRAID FOR CURLY HAIR
Step 1: Find the "Up-Zing" Clip for about $5 in stores. Pull up sides up, secure with clip.
Step 2: Completely flatten the inside from the bottom up. Use bobby pins to hold it out of the way.
Step 3: Take small sections from the side and cross to other side, and hold. Repeat on each side as many times as needed. It's not braiding, just folding.
Step 4: Use the end of your hair to cover up the clip and use a bobby pin to secure.
Special Thanks to:
Natural Resources Salon
Aurea Salon and Spa
Get Social with Deals:
Like Deals on Facebook: facebook.com/DealsTV
Follow Deals on Twitter: twitter.com/Deals_TV
Pin Deals on Pinterest: pinterest.com/DealsTV/
Due to the pre-recorded nature of this program, some prices may not be current. Please check your local retailer.