Deals Episodes
DIY Projects from Old Cabinet Doors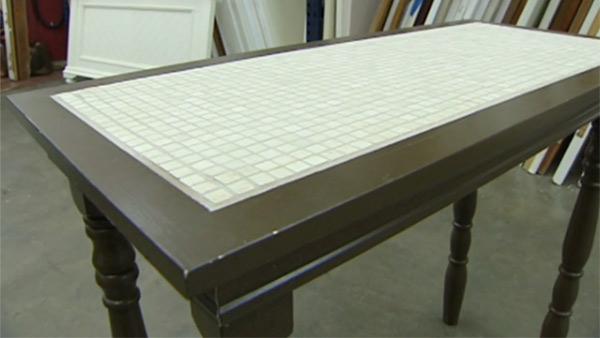 Old cabinet doors are cheap and have a ton of uses. Learn how to use one to create a tiled table, a chalkboard, a tiled mirror and picture frame.
Matt Murphy is the DIY king for the Habitat Restore. "We are trying to demonstrate ways to repurpose items so people can reuse things that are random things around here," he said. The Restore always has old cabinet doors in stock. From a chalkboard, to a picture frame and even a table, Matt has a few ways to DIY the doors into something new!
DIY Table from Cabinet Doors and Stair Balusters
First, this table, made out of one cabinet door and four stair balusters. "You are going to spend probably $75 - $100 and here you can make that yourself for about $15," Matt said. At the Restore, solid cabinet doors are $5 each. The stair balusters are $2 each. You'll need:
one cabinet door
four stair balusters
screws
power drill
paint
Here's how to do it: 1. Take the cabinet door and screw on the stair balusters. 2. Place it right in the frame - so you have a little overlap, but not much. Don't worry about measuring. 3. Use wood filler and fill in the screws. There will still be a slight indention, but you won't see the screws. Then we will even it out so it won't look as bad. 4. Now you can paint it using semi-gloss, high gloss or whatever you prefer. 5. You can leave it plain or add tile on the top.
DIY Chalkboard from a Cabinet Door
Grab the chalkboard paint for this next cabinet door project. 1. Make sure the cabinet door is clean of debris. Remove the current knob that's there. 2. Take the wood filler and fill in just one of the holes that was left by the hardware. 3. Tape off the cabinet along the edge, whatever edge you want for the chalk board. 4. Use the chalkboard spray paint and spray paint the cabinet door. Let it dry about 15-20 minutes then remove the tape.Generally it doesn't need two coats. If you want to put an extra coat on there you can. You have to do it within 15 minutes otherwise it will discolor. 6. Add a cupped drawer pull to hold the chalk. 7 Once it dries, peel the tape off.
DIY Wall Art from Cabinet Door
"We receive a lot of cabinet doors with glass in them, along with old windows that you can use for this project," Matt said. "We are going to make a picture frame out of it." You'll need:
cabinet door with glass
pictures
wall paper
tape
drill to remove the hardware
1. Take the cabinet door, remove the hardware. Cut the pictures to the size you would like and tape them to the glass. 2. Uses old scraps of wallpaper to fill in the glass openings. This cabinet door with glass, was just $7 at the re-store, and it's now a beautiful decorative picture frame! DIY Tiled Mirror "A lot of things we do here at the restore are just plain mirrors so on this next demonstration we are going to show you how to accent a mirror," Matt said. He grabs an $8 mirror and some $5 tile. "The cool thing about this tile is it comes in strips already put together," he said. "If you have a bigger mirror you could do more, if you have a smaller one you could use less of a border." You need:

mirror
tiles
thin-set mortar
grout

1. With a clean mirror, spread a strip of mortar on the edge of the mirror, making the strip smooth. It's okay if the mortar is wider than the tile you're going to be using - it can be sponged off later. 2. Lay the tiles down where you want them. Let dry an hour or two. 3. Spread grout over the tiles. 4. After it dries, clean up any extra grout or mortar. For more from Matt and Habitat Restore, visit www.habitat.com/restores.