Deals Episodes
DIY Pet Accessories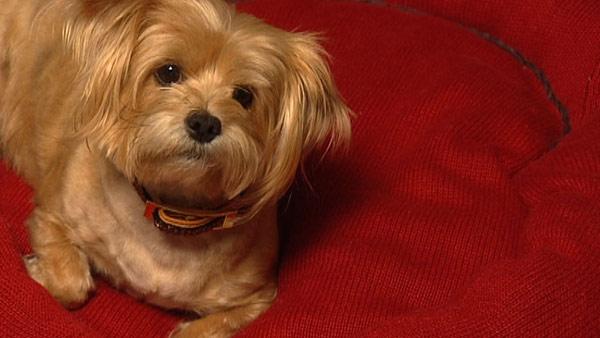 Keep your pet in style with these do-it-yourself accessories! These items can get pricey, but our DIY expert Tamika Fletcher shows you how to make your own pet beds and collars for a deal!
The most expensive project cost us about $15, the others were under $5! We shopped thrift stores and our closets and ended up with some very fashionable accessories!
Suitcase Pet Bed
Materials Needed:
Vintage Suitcase
Stuffing and Fabric or Pillow
Wooden Legs (from thrift store)
Hammer
Nails
Drill
Cut suitcase apart so there are two pieces. We will use the bottom half. Drill four holes in the bottom corner of each side. Drill four holes into each wooden leg. Attach legs to suitcase using nails. You may also want to use washers. Add a pillow or make your own using fabric and stuffing.
Sweater Bed
Materials Needed:
Sweater/Sweatshirt
Yarn Needle and Thread
Stuffing
Directions:
First, draw a parameter across the top of the sweater; we used chalk. Using a cross stitch; sew it closed along with the neck of the sweater. Stuff the top of the sweater, going through the arms. Stuff the inside of the sweater and stitch the bottom closed. Fold the arms across the bottom and stitch those together. To make the bed easy to pick up add three stitches to each side and one in the middle to hold it all together.
"Blinged" Pet Collar
Materials Needed:
Belt
Rhinestones
Scissors
Seam Ripper
Nail
Directions
Measure pets neck or collar. If you measure the collar be sure to do so starting from the top of the buckle. You could add a few inches to give your pet some room to grow! To add your hole -- measure about an inch from the end of the belt and pierce a hole using your seam ripper. Then using a nail and drill, drill a hole back and forth until your hold is big enough. We used a lanyard with rhinestones on it - you will need to add a hole to this too using the same steps. Just be sure to pop of the rhinestones where you will drill. We took off 4. Use hot glue to attach it to the belt and you're done!
Shirt Collar, Collar!
Materials Needed:
Old Shirt
Scissors
Directions:
Just cut the collar off of the shirt at the seam and that's it! You can jazz it up by adding decorative buttons. We attached the pet's tags on the button hole.
For more information visit naturalresourcessalon.com.
Get Social with Deals:
Like Deals on Facebook: facebook.com/DealsTV
Follow Deals on Twitter: twitter.com/Deals_TV
Pin Deals on Pinterest: pinterest.com/DealsTV
Due to the pre-recorded nature of this program, some prices may not be current. Please check your local retailer.