Deals Episodes
DIY Metal Cleaners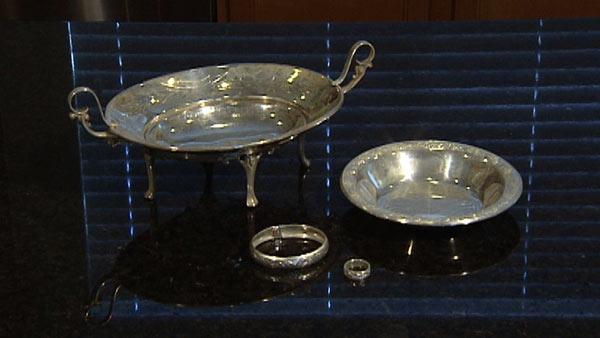 Whether you use them or not, your precious metals are sure to get tarnished and buying all the things to keep shiny could cost you upwards of $50, not to mention the chemicals they may have in them.
Domestic Diva, Leisl Albers, says you can easily make your own metal polishers using ingredients you probably already have in your home.
RECIPES FOR SILVER:
1. All you need is toothpaste, a cloth and your finger! Rub toothpaste on the piece and use a cloth to wipe clean. The tarnish should come right off.
2. Boil salt, baking soda and a couple of pieces of aluminum foil in a pot of water. Submerge silver and let boil for about 5 minutes. Using tongs take them out and rinse with cold water. Dry immediately to prevent water spots. This recipe really gets into the crevasses and detail work to clean them.
3. Mix up a paste of baking soda and water. Rub onto the silver and it will shine up immediately. Wipe off with cloth.
RECIPE FOR CHROME:
1. Use vinegar and a cloth to wipe them down. Follow up with a bit of baby oil.
RECIPES FOR BRASS:
1. Mix lemon juice and cream of tartar to make a paste. Rub on brass piece and let sit for 15 minutes. Wipe off with a cloth. Rinse and dry off immediately to eliminate spots. Apply light coating of olive oil to retard from tarnishing as quickly.
2. Submerge the brass piece in milk, Worchester sauce, Tabasco sauce, tomato paste or ketchup. Rinse off and dry. They work to remove tarnish because they are all low grade acids. Apply light coating of olive oil to retard from tarnishing as quickly.
RECIPE FOR COPPER:
1. Mix together cream of tartar and lemon juice to make a paste. Put on brass pieces and let sit for 15 minutes or until it gets shiny. Rinse off and dry immediately.
RECIPE FOR STAINLESS STEEL:
1. Use a cloth to wipe using distilled vinegar. Follow up with baby oil.
RECIPE FOR ALUMINUM BAKING PANS:
1. Fill you aluminum baking pan with water and sprinkle in cream of tartar. Stir so the cream of tartar dissolves. Put in 400 degree oven for about an hour. Take out and rinse.
More DIY Recipes:
Get Social with Deals:
Like Deals on Facebook:
facebook.com/DealsTV
Follow Deals on Twitter:
twitter.com/Deals_TV
Pin Deals on Pinterest:
pinterest.com/DealsTV/
Due to the pre-recorded nature of this program, some prices may not be current. Please check your local retailer.