Deals Episodes
DIY Manicure Tips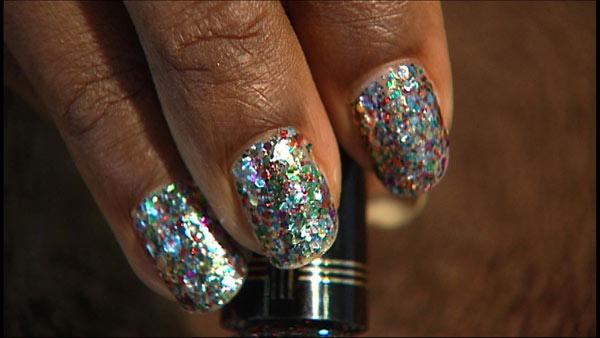 From bare nails to bombshell! You don't have to pay a pro to get fabulous nails.
"Just taking the time to polish your own nails saves a lot of money and it's fun to be able to add color," said Rocquelle Porch.
Nail expert and fashion blogger Rocquelle Porch encourages people to skip the salon!
"It's really, really way more affordable, because when you go get a manicure at the nail shop you pay $10-15 for a manicure," said Rocquelle.
To begin your home manicure make sure your nails are completely bare.
"Take all your polish off, even clear, you can't leave clear on there," said Rocquelle, "Clip them down, you want to make sure your nail at least has a little over the nail otherwise it can get infections in there. Once you do that you soak them in water for a few minutes."
When it comes to cuticles, never cut them! Instead just push them back.
"Put your cuticle cream on there, and you push it back with a little wooden stick. Then, you wash it off," said Rocquelle. "They have something called a nail brush you can get at the dollar store, 99 cents, even 50 cents sometimes you just brush it really good and that gets all the extra dirt out that has soaked in the water."
Once your nails are clean, layering the polish will make it last longer.
"I really do believe that two coats of your color, a base coat and a top coat really lasts," said Rocquelle. "My nails - Ii keep them at a week - but even at a week I can still wear them for the most part."
For best results, don't use old nail polish. It will start seperating and you will see oil forming on the top. How many times have you had buyer's remorse with your polish?
"Sometimes when you buy a polish you think it's going to look one way and then it looks a totally different way on your skin or it's darker or lighter than you like," said Rocquelle. "You can actually mix it with white or black to make it lighter or darker."
Rocquelle pours out the darker color on to a piece of paper, then slowly mixes in the white.
"It's like paint class all over again," said Rocquelle. "I'm very quick to put white over orange to make it peach. And it's quick and easy."
The color goes from neon and loud to soft and subtle. Now, Rocquelle gets creative with a toothpick.
"It's kinda like drawing with paint, but just with a very thin paint brush. Just dip it in there and get enough on there that you can write something," said Rocquelle. "Most of the time when I do designs I don't do every nail. I do two nails or one nail just for that extra pop."
Rocquelle's "tiger stripe" look is something anyone can do.
"It's kinda like drawing with paint, but just with a very thin paint brush," said Rocquelle. "Just dip it in there, get enough on there that you can write something."
You can also use tape to help create cool designs.
"You can use tape for any type of design that is a straight line," said Rocquelle, "You just it to tape off certain sections of the nail then you polish over the whole nail then you remove the tape. You want to make sure you give it plenty of time to dry. There you go, you can do several stripes, you can do horizontal."
For another trendy look, this "crackle" or "shatter" nail polish goes over the color you already have to transform the look.
"Just put the shatter over it and it breaks it up. You can see peaks of the white and then the black on top," said Rocquelle.
To set your color, head to the sink.
"I just run my fingers under really cold water and it helps it to dry," said Rocquelle. "Just wait a few minutes after you do that, it really does help. It's that cold, it just gives it that instant freeze."
No matter what your style, Rocquelle says have fun and just do whatever feels best!
"The way that things are going right now, anything goes and people will love it," said Rocquelle. "Be risky don't be afraid to take a risk and try it out, try something new because you really never know what you can come up with."
For more information visit www.considermelovely.com.