Deals Episodes
DIY Laundry Recipes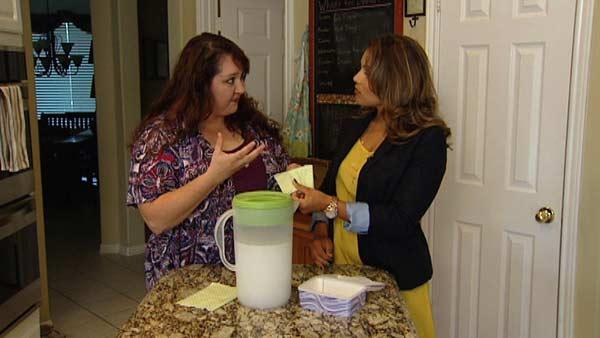 Making your own laundry cleaners is an easy way to save money.
HOMEMADE FABRIC SOFTENER:
6 cups water
3 cups white vinegar
2 cups hair conditioner (any kind, any price)
Mix well, but don't let it foam up
One gallon of fabric softener for only $1.39! That's about two cents an ounce!
HOMEMADE DRYER SHEETS:
Old flannel shirt or wash clothes
Fabric softener
Cut up an old flannel shirt or old wash clothes into strips or squares. Soak material in fabric softener. Throw the strips into the dryer; you can use it over and over.
This recipe costs just a few pennies to make!
HOMEMADE EVERYDAY STAIN REMOVER:
Leftover soaps
Glass jar
Gather up bits of left over soaps, or small hotel soaps you have under your sink or in a closet. Cut the soap into small bits. Put the bits into a glass jar and add boiling water. Mix up and let cool. Use for smaller stains.
Cost of this recipe is FREE!
HOMEMADE HEAVY DUTY STAIN FIGHTER:
1 cup of hot water
1/2 cup of baking soda
1/2 cup of hydrogen peroxide
Mix all three ingredients in a spray bottle. Apply to stain and let set overnight. Put it in the wash the next day and it should get out bigger stains like blood, grass and ketchup.
This recipe costs about 25 cents for a batch of really effective stain remover!
For more information about Nora Kapche, The Coupon Contessa, visit www.CouponContessa.com.
Get Social with Deals:
Like Deals on Facebook: facebook.com/DealsTV
Follow Deals on Twitter: twitter.com/Deals_TV
Pin Deals on Pinterest: pinterest.com/DealsTV/
Due to the pre-recorded nature of this program, some prices may not be current. Please check your local retailer.