Deals Episodes
DIY Fashion Transformations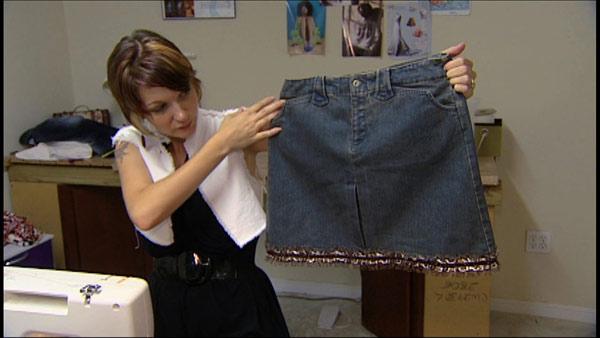 Whether you're a sewing machine savant or a style rookie, we're giving you some very simple DIY techniques to giving your old clothes new life.
Clothing designer Janean Johnson says you would be really surprised at how many looks you can get just by using the clothes in your own closet.
While re-designing may seem complicated and time consuming, Janean says these simple additions are anything but!
SKIRTS
"You'd be surprised how many people would think that putting new trim on your skirt -- you just went out and bought a new trendy skirt," she said.
For this, you just need any skirt -- dressy or casual and some trim.
"A lot of times they run a lot of sales on those like 50% off for two yards, which is roughly the amount you need - for like $2-$3 versus going out and spending how much money on a brand new skirt," she says. "$2-$3 is a lot easier."
Use straight pins to hold the trim in place.
"I like to start on the back-seam when we're putting ribbon and trim on and I'm just going to meet it up with the hem that's already on here," she said.
Janean is using the sewing machine, but says you can do it by hand if you prefer.
"We're just going to straight stitch this all the way around," she says.
Don't worry if your stitches aren't straight, she says most trims will hide any imperfections.
"I usually fold it over about a 1/2 inch on top of where I started so you have a nice clean even piece on the back," Janean says.
"This is like a 10 minute job from start to finish - from pinning it, sewing it, cutting it - 10 minutes, done! Brand new skirt," she says.
JEANS
Another easy transformation piece - jeans!
"Not only can you make then into capri's, you can make them into shorts, you can cuff them, decorate them, put trim on them, ruffle the bottom," Janean suggests.
Janean's going to embellish the bottoms with grommets, which you can get with or without backs - either will work fine.
Once you figure out how long or short you want them - cut the excess material.
"You want to try to get them as straight as possible," she says. "Just fold them over about a 1/2 inch."
Use straight pins to hold the hem in place, then sew it together using your machine or by hand.
"I can't emphasize enough when you're stitching always back stitch - couple of stitches forward, push your back stick button and go backwards a couple stitches," she advises. "That's so it doesn't come apart."
Starting on the in-seam of the jeans, you want to put your grommets about a quarter of an inch above the hem line.
Using a grommet setter, make a hole and insert the grommet bottom-side down. Space them about an inch apart all the way around.
You can leave it as is or thread some ribbon through the grommets for an extra pop!
TANK TOPS
If you're a little more advanced, Janean shows us two ways to take your tank tops from plain to glam. All you need is a tank top, a scarf, needle and thread!
First: Cut your scarf in half
"I'm going to take the top hem of the shoulder and I'm going to cut into it and cut it open - now I have an open seam," she says.
Fold the fabric and line it up with the back-side of the open hem - the same side with the tag and pin it in place.
Using the machine or by hand sew it together.
"If you're making this for yourself to gauge where you want the next piece to go you can put it on pin it in the mirror," Janean recommends.
Fold the front in-seam down where you will attach the scarf. Then you want to just kind of ruffle the scarf a little bit or you can tie it in a knot.
Next, pin it in place, wherever you pin the scarf down, that's where your stitches go - three or four stitches for each pin.
"I'm going to start in the back and I'm using lack thread so you can see it," she says.
You'll want to do the same thing on the other shoulder, but for demonstration purposes we're moving on to the second look.
"This is only hand sewing - you don't have to cut anything," Janean says. "You're going to take the ends of it and roll it under your fingers." "I'm going to actually pin it to my shoulder - you're just going to kind of bunch it on top of each other," she says.
Again, pin the scarf where you will sew.
"You always want to start from underneath," she says. "As you pull the pins out and move the fabric and just sew where the pins are - everything's going to fall right back and you'll have all this volume," she says. "There you have it - two very simple looks brand new all used with a scarf and a tank top!"
p>
To learn more about Janean and her clothing line JaJo Couture visit jajocouture.com.