Deals Episodes
DIY Dog Treats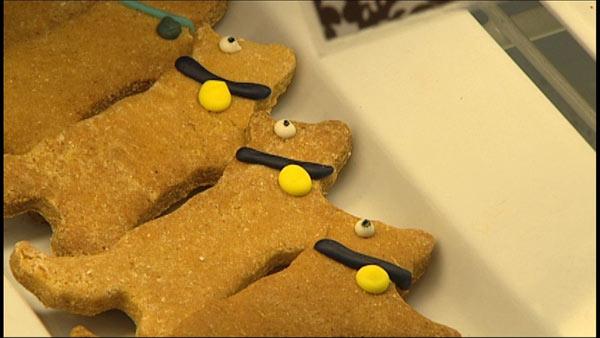 If you're a pet lover, you always want to give your dog the very best, including what you put in its mouth. Making your own dog treats is an easy way to supply healthy and nutritious snacks.
The folks at Barker Street Gourmet Dog Bakery and Boutique understand the love people have for their pets. That's why all their treats are baked fresh in the store using ingredients that even we can eat!
"Not every human food is good for animals, you can't give them chocolate obviously because there's theobromine in it which can be fatal for dogs, so we have to pick and choose foods that are good for them to eat, that are healthy for them to eat," said Barker Street co-owner Tanya Ogden. "Some cookies are just like us eating a girl scout cookie - it's yummy, it's not necessarily the best thing for us, but it's not going to hurt us, but then we have other things we can eat that are completely healthy and nutritional."
Barker Street was originally started because the previous owners had a dog with food allergies.
"Their particular dog had a tremendous amount of food allergies and they started baking for her so that she could still have treats but they could control what went in them," Tanya said.
You can buy homemade cookies at the bakery for around $2 bucks apiece, not too bad price-wise, but Tanya says you can save even more if you make them yourself.
"A lot of the pricing that we have goes into the amount of time that it takes us to make the cookie, package it, bake it," she said. "If you're doing this at home your biggest investment is your time." "It does seem kind of intimidating at first you're thinking, 'oh gosh I'm going to make a dog cookie.' It's no different than making a cookie you'd make at home," she said. "You can get really creative with it, too. A lot of times we'll use different types of yogurt and different colors to frost the cookies, dip the cookies, and you can be creative as you want to be."
Dog Snack Recipes:
Snicker Doodle
Cheese, Chicken, and Garlic
Carrot Bones
For more information about Barker Street Gourmet Dog Bakery and Boutique visit barkerstreetbakery.com.