Deals Episodes
DIY Dishwasher and Laundry Detergent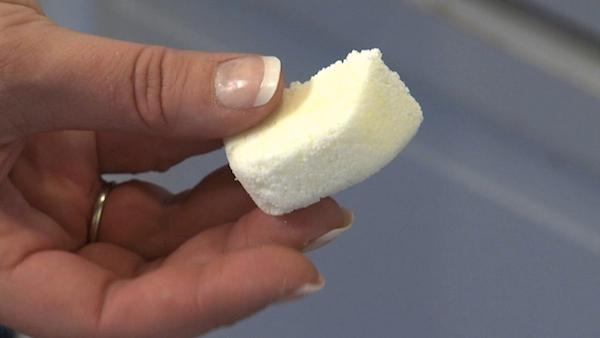 Between detergents, stain removers and fabric softeners, getting our dishes and clothes clean can add up! We tested a few DIY recipes to see how they stack up against the pricey store-bought options. Mom of two boys, Tibonnie Shaw ran this experiment and shared a few of her tried and true tips for getting out stains.
With two little boys running around, Tibbonie's dishwasher and washing machine really get a workout. To cut costs, Tibbonie decided to try a couple of DIY recipes.
DIY Dishwasher Detergent Recipe
1 Cup Washing Soda
1 Cup Baking Soda
3 Packs unsweetened Lemonade Drink Mix
1 Cup Kosher Salt
1 Cup Water
Plastic Ice Trays
Directions:
Mix all the dry ingredients together and add water to make a paste. Put a spoonful into the ice trays, but only fill halfway. Allow the mixture to dry overnight.
Our Results:
The dishes were clean and spot-free!It also cleaned the soap scum and hard water stains from the inside of the dishwasher.
Price Comparison:
DIY Version:
5 cents per load
Name Brand:
31 cents per load
DIY Laundry Detergent Recipe
1 Box Super Washing Soda
1 Borax Soda
1 Box Pure Baking Soda
1/2 Container Oxy-Clean
Purex Crystals (for scent)
3 Bars Ivory Soap (grated and dried in microwave)
Directions:
Mix all the ingredients together and use 1 to 2 tablespoons per load. This recipe makes enough for 500 loads of laundry and costs just $21.73 total!
Our Results:
We stained two identical shirts with mustard, ketchup and dirt. Our homemade mix left the clothes clean and smelling great, but it didn't cut through all the stains. Our name brand detergent did a better job, but also did not remove everything. For this experiment, we did not use bleach.
Our Results:
DIY Version:
4 cents a load
Name Brand:
34 cents a load
Tibbonie's Laundry and Stain Removing Tips
If you want to get an ink stain out of white clothes, use hand sanitizer! Start with just a little bit, and use more, rubbing it in if necessary! Tibbonie's husband used this when he was in the Navy to keep his dress whites clean and bright.
Don't buy dryer sheets! Use a foil ball instead to reduce static cling. Pull off about a foot of foil and make it into a ball. Throw it into the dryer like you would a dryer sheet.
To save money, use white distilled vinegar instead of fabric softener. Pour it in just like you would fabric softener. It's also going to keep your clothes brighter and keep your washer clean from build up!