Deals Episodes
Creative Ways To Reuse Old Yoga Mats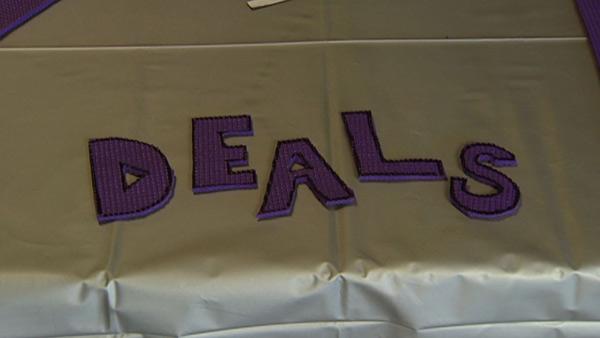 Is your yoga mat tired and worn out? If so, don't toss it. There are so many ways to give it new life. Rachel Good, owner of the "Bar Method Studio," has used yoga mats for years and has thought up some creative ways to save money using them.
COASTERS:
Take a cup, flip it over to a larger side. Trace a circle slightly bigger than the cup. Remove the cup and cut out the circle. Use that same circle as a stencil to make however many coasters you need.
JAR OPENER:
Find something bigger than the jars you typically open. Trace a circle around it. Viola! The sticky surface of the yoga mat gives a helpful hand in the kitchen.
MAGNET LETTERS:
Draw letters on you mat and cut around them. You can also go online and find template for just about any kind of letter, number or shape. Print them out, trace them on the mat. Get magnet sticky strips at any local craft store. Stick it on the back of the letter.
COFFE SLEEVE:
Don't get a coffee sleeve each time you go to the coffee shop. Make one from your yoga mat! Cut a strip about 5 to 6 inches wide. Cut one end to be tapered and go in like a "V". Wrap the strip around your coffee cup with the tapered end on the bottom. Use a hot glue gun or super glue to hold the strip. Take the sleeve off of the cup and trim off the excess mat.
TECHNOLOGY POUCH:
Make a case for your laptop, tablet or smart phone. Lay your technology piece on the mat. Draw around it leaving 1 inch on each side. Remove your technology piece. Cut the square from the yoga mat. Use that square as a template for another one just like it. Take the two pieces and glue THREE sides (we used super glue). Once it's dry, slip your laptop, tablet or smart phone into the case to protect it.
HAIR TIE:
Use leftover pieces to make strips. So long as it's about 4 inches or more, you can put your hair in a ponytail. Wrap the strip around your ponytail and tie it. The natural stickiness of the mat makes it stay all day.
For More Information:
Rachel Good, Owner
Bar Method Studio
503 Westheimer Rd
Houston TX 77006
barmethod.com