Deals Episodes
Creative Button Uses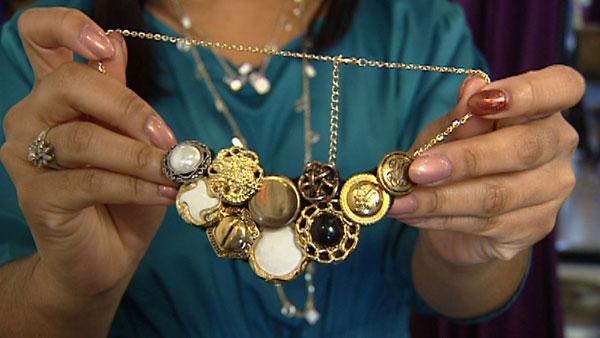 Put that box of buttons you have sitting in a closet to work by jazzing up everything from a boring t-shirt, plain headbands and even jewelry!
Stylist Joy Massingill has come up with a few ideas that truly are on the button.
"Everyone has buttons," she said. "They're a common part of fashion, but for some reason we can't throw the buttons away. You can use your creative juices and to create some really fun stuff."
Button Magnets
These make cute one-of-a-kind gifts that cost almost nothing.
Apply magnets to back of buttons, either with magnets that have adhesive backs or with a glue gun.
Create your design and attach!
Button Headband
Depending on the type of headband, glue or sew buttons on.
T-Shirt Designs
Jazz up a boring t-shirt by putting your own stamp on it with buttons!
Lay out a shirt and place buttons in a design of your choice.
Sew buttons on shirt in shapes of butterflies, peace sign or design of your choice.
DO NOT USE HOT GLUE! It'll come off in the wash!
Vintage button necklace
You will need:
Scissors
Needle and thread
Felt backing
Hot glue gun
Chain necklace
Buttons
Directions:
Attach buttons to felt backing with hot glue.
Cut around felt.
Attach chain necklace to back of felt.
Vintage button earrings
Pick matching buttons, one for each ear.
Hot glue button to earring back.
For more information:
www.melodramaboutiqueonline.com