Deals Episodes
Cork Uses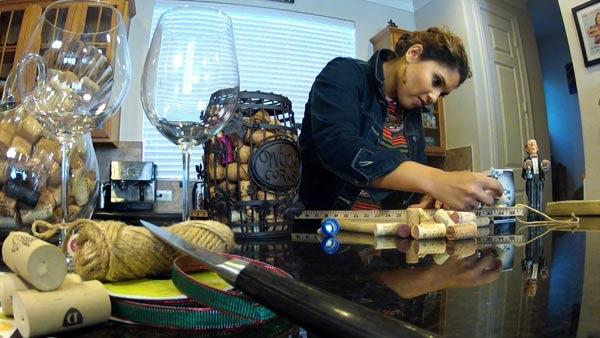 Don't throw out your wine corks! Kat Cosley has some clever ideas that will save you money.
Corkboard:
For something so simple, corkboards can cost quite a bit! So Kat shows us her spin on a corkboard.
What You'll Need:
Wine Corks
Yard Stick
Wood Glue
Directions:
Glue the corks to the yard stick. Let it dry for about 36 hours and add pictures or notes!
Wine Glass Charms:
These wine glass charms are so cute and really come in handy when you're hosting a dinner party and you don't want to get anyone's germs. While you can usually find a box of eight for a few bucks, why not make your own for next to nothing!
What You'll Need:
Wine Corks
Sharp Knife
Small Eye Screws
Stickers
Twine or Ribbon
Directions:
Using your knife, cut the cork into half inch discs. Add stickers to monogram each disc or you can add your own creative design on them. Take your eye screw and insert it through the top of the disc.
Thread with twine or ribbon and attach to your wine glass!
Cheers to saving money!
Get Social with Deals:
Like Deals on Facebook: facebook.com/DealsTV
Follow Deals on Twitter: twitter.com/Deals_TV
Pin Deals on Pinterest: pinterest.com/DealsTV/
Due to the pre-recorded nature of this program, some prices may not be current. Please check your local retailer.