Deals Episodes
Consignment Furniture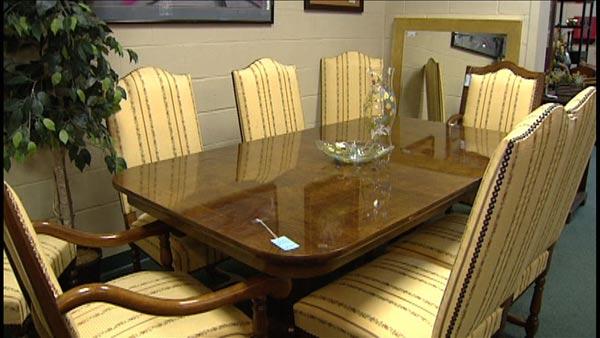 Andrew and Kimberly just moved across the country and they are hoping to furnish their new apartment without breaking the bank. Kat Cosley, host of Deals, shows them that shopping at consignment shops can save them a lot of money on furniture.
"The thing about coming to a second hand store, you get the value of yesterday," says Kimberly McPhail. "We wanted to try somewhere where we can get some real wood, some real furniture, instead of throw it together, slap some screws in it kind of thing. We seem to find the same prices on this stuff, it's just going to last longer."
"There's no frills, you get what you want. You are not feeling cheated like with fake pine, like over here you've got oak and mahogany," says Andrew Morgan. "You can't beat the prices either. It's the only way to go I think, these days especially. This is the best alternative for people on a budget."
"It feels clean in here, you just don't feel like it's somebody's used garbage," said Kimberly.
There are furniture consignment stores in cities all over the country. Shopping at a place like this allows you to get bargain prices on quality used items.
"We look to see if there is no rip tears or stain and free of all pet hairs," said Jerry Jones, manager of Second Debut Furniture. "We look things over very carefully. The question that I get all the time is do you guys sell new and used? Nope, everything in the store is used. We are just picky about what we take in."
Jerry Jones manages "Second Debut Furniture" and says buying used can really save consumers money on name brand items.
"I'm standing here in front of a bedroom set from Crate and Barrel, which consists of five pieces," said Jerry. "A headboard, footboard a dresser and two nightstands. Which is a couple of years old but still in very good condition. You are looking at anywhere from $2,300 to $2,500 bed set that we have here for $1,199. It's all made of solid wood, sturdy."
"We have a table that was manufactured by Orleans Furniture. It's a very solid table made out of solid wood. You are probably look at maybe $5,000 to $7,000 for the table and chairs and we have it priced at $2,499."
"This item here is a much larger store in the retail market -- a customer may pay anywhere from $3,000 to $4,000 and here at second debut we have it priced at $1,499."
Jerry also showed us a "Hooker" brand desk that retails for up to $4,000. Here it's $699. There's also a set of leather chairs and ottomans that sell for $15,000 brand new and are $499 here.
"They've got a little bit of everything," says shopper Susan Mitchell. "If you are looking for it, they've got it. They've got china cabinets, they've got bedroom sets, dining sets, living room suites. They've got bedroom suites, bookcases, art work, all the stuff you see hanging on the wall is for sale and at good prices."
But furniture consignment stores are not just about finding a good deal, it's also a way you can make some extra cash.
"Our contract is for 90 days and there is a 50-50 split of the sale and whatever it sells for. For instance if you bring something in and it sells for $200 you get $100," said Jerry. "Some of those that can afford it will change their furniture so they bring their stuff here, they get money back on their merchandise and they can turn around and get new stuff," said Mitchell.
And Jerry adds, there are other benefits to letting someone else sell your furniture.
"The difference between online selling and using the consignment stores is it's much safer. You don't have to worry about who is going to come to your house. Here there is a voice behind your furniture. We take good care of the furniture," he said.
"Most furniture consignment stores work the same way when it comes to pricing.
"We usually do the pricing anywhere from 40-50 percent of the original price that the owner paid for it," said Jones. "The first 30 days we mark them down 20 percent. Second we mark them 35. Then in 75 days the item is marked down 50 percent of what we priced it for when it first came into the store. Therefore the longer it sits sometimes the cheaper it gets." "If people are on a budget this is a good place to find stuff," said Mitchell.
Additional tips from Jerry for selling or buying consignment furniture:
Get some background information on the item. Ask the shop manager where the item was used or where it came from.
Find out the rules the consignment shop uses before accepting an item.
Find out the material used in the item. Solid wood is best.
Have an idea of what you want or need before you go shopping.
Think of ways you can change up the item
For more information visit
http://www.2nddebutfurniture.com
.