Deals Episodes
Community Garden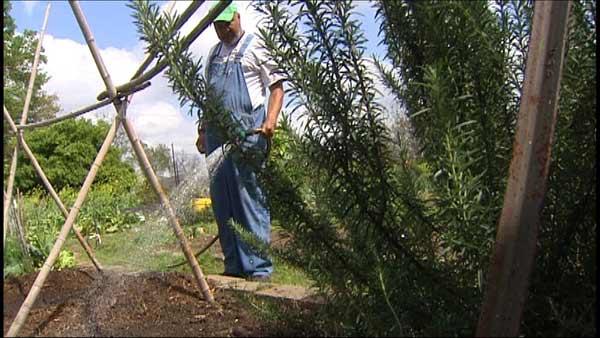 A community garden is a great way to save money on produce and help others.
JD Green is in charge of a lush and sprawling community garden.
"Everything we do here is free. Everything is give away," said JD Green. "I make sure everyone comes here, keeps their plots clean, they grow vegetables for someone else. I try to be here to let them know they are welcome here at Alabama Community Garden. We have 34 people here as you walk down you'll see different names for all the different plots. Everybody here, they share. Whatever they grow, they share."
Growing and sharing are the two main elements of a community garden.
"A community garden is any garden that is maintained by a group of people," said Becky Blanton, Urban Harvest, "That could be a bunch of neighbors, members of a church, people from a school, really anybody. They all work a little bit differently. There are two main types of gardens. You have a garden where people rent a plot. The other type of garden is one where everyone is working together as sort of more of a cooperative effort they are doing it either for donation or for themselves."
"What we do is after I feed my family then you have so much left in your plots. You can't eat it all, so you give it away. We have people coming every day in this community asking for food and we give it to them," said JD, "We have a grapefruit tree loaded with grapefruit - we had over 400 grapefruits on there. Our tangerine tree has better than 600 tangerines. Which is all good, we gave most of that away. We have avocado trees here, we have lemon trees. We have a lot of big trees here. We have peach trees, we have a lot of fruit trees to grow and give stuff away with."
A community is not just about sharing, it's about saving money.
"If you look at the cost of an input for community garden, let's talk about carrots. You can get 750 carrot seeds for about three bucks. Assuming reasonable germination, that's many pounds of carrots, easily five pounds of carrots. If you went to the grocery store and bought that many carrots, it would cost a lot more," said Becky.
"Growing vegetables and giving them to people is automatically saving. If you go to the store and buy some greens there it will cost you a couple of dollars. But here we will give it to you free," said JD.
To get a community garden started in your area, first find a group of people who are interested in gardening. Then, look for land.
"It varies depending on where you are. Sometimes you'll find a private land owner who is willing to work with you. Sometimes a church will have extra land it's willing to set aside for a garden. School gardens are easy as long as the administration goes along with having it there," said Becky.
Once you have the land, start small and grow from there. But, Becky warns, be careful.
"It's real easy to build this huge garden and then you realize you don't have enough volunteers or money to keep this going. So it's best to have a master plan but implement in small pieces so it's manageable," said Becky.
A community garden can supply homegrown, fresh food and the added bonus of saving money! But for a lot of people, including JD, a community garden is so much more.
"It's great food. I love eating. My grandkids love to eat. We are organic. I like to plant it, I like to grow it. I like to know what they're eating. I like to know what I'm eating," said JD.
"I think what people like the most, they like being able to provide for themselves or food for others," said Becky, "They also just like being outside, being involved, growing things. It's very soothing for a lot of people, very therapeutic."
"I think all neighbors should have a community garden so they can grow food and share with their neighbors. Number one it's feeding the community, that's the most important thing," said JD.
Resources: