Deals Episodes
Cheap DIY Hair Accessories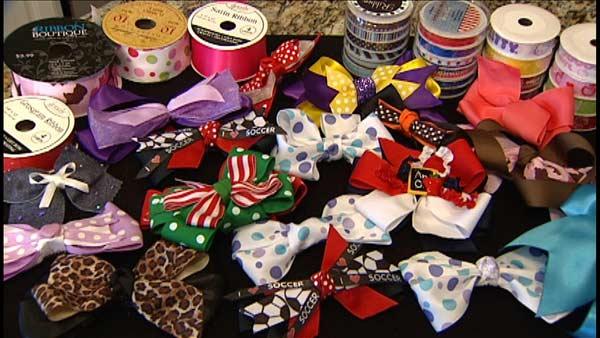 Whether you shop at a wholesaler or make them yourself, hair accessories don't have to cost a fortune.
Bows can run anywhere from $8 to 15 each in boutiques or department stores, but wholesalers like Sam Moon have similar bows starting at one dollar!
"We have all styles of bows from bows for newborn little girls, we have the headbands that have bows attached to them," said Wendy Salazar, Sam Moon. "As well as when the little girls get older."
"I mean if you've got somebody who loses them all the time or you know they get dirty, messed up you don't feel so bad about having to replace them as if you spend 8 - 10 dollars on a bow," said Salazar.
At Sam Moon you can buy an entire row of 12 bows for $8. The bigger bows are $16 for a pack of 12.
Even though there are hundreds of options of bows at wholesale shops -- you can sometimes save even more money by making your own and you can be more creative.
"You can pick any kind of ribbon, any kind of shape, any kind of variety of colors, you can specify exactly what you want that bow to look like," said Nora Kapche.
Coupon Contessa Nora Kapche makes all of her girl's hair accessories, including bows, headbands and even feather extensions!
"Anybody can make a simple bow," said Nora. "Once you learn how to make the simple bow, then you can make two or three of them and stack them together. You can make different colors, different ribbons."
Can't tie a bow to save your life? We promise you will still be able to make one of these. First cut the ribbon. Then, singe the edges with a lighter so it won't fray. Then, fold it back and forth, bunch it together in the middle and wrap a wire around it.
"Put hot glue on barrette; stick it to the backside of your bow," said Nora, "To finish it off, we are going to take a piece of ribbon and hot glue that on to finish it off. That's all you have to do to make a simple bow!"
This bow costs less than a dollar to make. Nora makes bow for just about every occasion, including Christmas and soccer season!
"I like bows because it's a design that makes me look pretty!" said Hailey Porter, age 7.
You can also turn an entire 99-cent bunch of flowers into eight different bows!
"To make a flower bow, it's very simple," said Nora. "I usually get the stems at the dollar store, then disassemble the stems, glue them back together and put them on a little clip. It's very easy, fun and very popular now a days."
Nora puts a ribbon inside the clip so the clip does not stick together when she glues it. Then, you just attach the flower to the clip and add some bling! These flower bows cost about 20 cents each to make. And, you can also get even more use out of those flowers and bows.
"The headbands you can put the bow on, you can put the flower on and they do sell in the store for about $4 to $5 each but this way you learn how to make the basic bow, you've learned how to make the flower barrette. All you have to do is make those individually and put them on a headband."
"I really like my headband because I like to match stuff with it and it really goes with my outfit," said Caylee Kapche, age 9.
And another hair piece that's super cheap to make -- feathers.
"When you go to the salon and you ask for a feather, it's like $10 to $15 for just a single feather," said Nora. "So if you want two or three feathers, you are already up within 50 dollars, plus you have to tip. If you do it yourself you can get it for $3 dollars for a high quality feather."
"To make a feather hair extension you will need a crochet hook or hair extension hook and you will also need a hair extension link. All you need to do is put it on your hook, put the hair on here and pull it through so the link is on the hair. After the link is on the hair, insert your feather through the link and the hair both, then crimp the link with the pliers -- that's all you have to do," said Nora.
Nora also says she never pays full price for her supplies. Nora says places like Hobby Lobby and Michaels have sales on different items each week, so if you watch and shop the sales you can get an even better deal.
For more information: