Deals Episodes
Car Care 101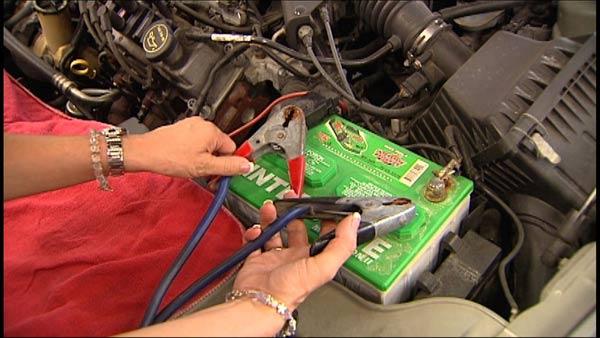 If you look under the hood of your car and you have no idea what to do, this segment is for you! Here are some car care tips that will help save you a lot of time as well as money.
Amy Milstead, owner of Milstead Automotive, is the only girl out of seven kids! So it's really not all that surprising that she would grow up to work and now run the company her father started 40 years ago!
Amy often uses her unique position to give back to other ladies in the community offering car care clinics like no other, cleverly called Lipstick and Dipsticks!
"We wanted to educate the females out there, I've got girls myself, I wanted my girls to know their friends, people in the community because there's a lot of ladies, a lot of single ladies, they don't have any clue about car repair," Amy said. "We need to know we're not being taken advantage of, we need to know what we need to do so we're not coming in and spending hundreds and hundreds of dollars when frankly a lot of people don't have it these days to dump into their automobile."
So grab a pen and paper and maybe even your lipstick, and come along for the ride!
"When you open the hood of your car most of the time you're going to look for leaks - any fluid that's out there that you can see, that's totally visible," said Amy.
As she shows where to locate the oil stick, you want to look for the min and max written on the stick. She says the oil needs to be right in the middle.
"You can get your oil changed for about $20 in most places, if you don't spend $20 every 3,000 miles you're going to be looking at $2,000 to $3,000," she said.
"You've got one belt on most of your cars these days -- you want to make sure your belt looks good because if it's frayed or broken that's the heart of your engine -- that runs your entire engine," she says.
The battery is the heart of your car. That's the first place Amy says you should check if your car won't start.
"You get your jumper cables -- it's great to carry these in your car. You can pick a set up at Wal-Mart for little of nothing. Positive on positive, negative on negative, same for the other car: red on red black on black," Amy says. "If you put them on backwards you're going to blow your battery out then you're going to have a whole lot more expense."
Taking a look underneath of the car, Amy points out the oil pan.
"Everybody's pulled up to one of those parking curbs and forgot that it's there and driven right over it and that will crack or damage or tear your oil pan - that is the fastest way for your car to lose oil and you will mess up your entire engine," she says. "If you're seeing it on your driveway or your parking space where you parked at work or the grocery store you need to get it checked immediately."
And Amy says when it comes to tires; one cent can go a long way.
"A good way to tell if your tire needs to be replaced - take a penny, put it upside down in there," she explains. "You're going to be able to see his face on a brand new tire, his forehead's what you're looking for."
If you can see Lincoln's forehead, Amy says it's time to get new tires! Making sure those tires are rotated and balanced can also save you a lot of money.
"If your tires are not wearing right or it's got too much pressure in them, it's going to cause uneven wear to the tires and you're going to have to replace them more," Amy said.
"You can pick up one of these tire gauges at an auto parts store," she says. "They are about $2." "These are really handy to have just pop it in check your tire pressure," she says. "The inside of the driver's side door is where you're going to find what your tire should have in them - you want to have it pretty close," she explains. If you have a donut on your car, you need to take it in immediately, that donut is not made to go at regular speeds it's not made for the wear and tear -- it's just an emergency tire to get you from point A to point B."
Some other tips:
Amy recommends you find a reputable mechanic, one that's ASC certified or a AAA approved repair shop, browse your owner's manual so you have an idea of what kind of care your car needs and do you research before you go in -- even if it's just a quick internet search.
"Ask for used parts that always helps, if they tell you that this is broke, that's broke say I want to see that on my car, I want you to show me what's going on and they can actually pull that belt off or that part off and show you, so you know you're really paying for that broken piece or that destroyed piece," she says.
For more on Lipstick and Dipsticks courses or Milstead Automotive, visit http://www.milsteadautomotive.com.