Deals Episodes
Buying the Right Luggage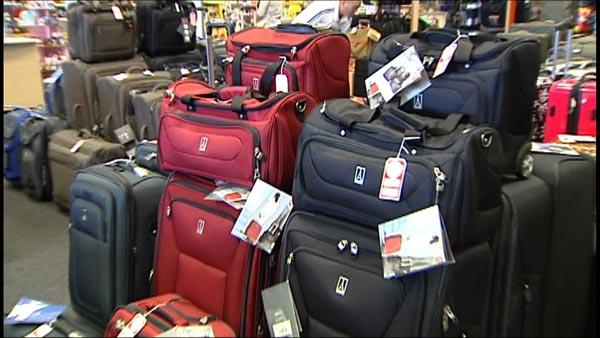 You have planned your vacation but now it is time to pack your bags. Do you have the right luggage for your travel needs?
Donald Kim says you can find quality, inexpensive luggage - you just have to know what to look for.
Things to look for when shopping for luggage:
Material: Polyesters are for people who travel maybe once or twice a year. They're going to be more inexpensive and they're not going to be as durable. But for somebody who takes one or two trips per year, it should be fine. For people who do more traveling, you want to get a material like nylon. Now a days you also have what's called polycarbonates, which are these new hard sided materials.
Frame: The material on the outside is just as important as what is on the inside. The better bags will have a frame that is going to pop back into its original shape - so in case it ever gets tossed around, you can see it's just going to kick back. A lot of inexpensive bags will have a metal frame or a cheap, plastic frame. This frame because it's made out of a PVC honeycomb, it just kick back into its original shape there.
Wheels: These are going to be the spinner meaning there are four wheels in each corner. That allows the bag to move in any direction without any weight leaning up against you. The better bags will have larger wheels and sometimes even double wheels in each corner.
Zippper: For the most part on a large compartment, you want a larger size zipper. The larger the zipper, the more stress it can take. If it ever gets split apart, you go back and forth and it will just retrack itself. When you have two rows of zippers, it give your bag more security because it is harder to get it open.
Handle: There are two benefits to that. The first benefit.. if you ever check this bag in, it actually acts as an extra barrier if it gets tossed around. It gives it more security. But the best benefit out of this is because the handle is on the outside of the bag you have full packing capacity on the inside. You don't have any bars to pack around.
"If you are looking to take as much as you can, obviously you want to get the biggest size carry on as well as a personal item, that way you don't have to pay the baggage fees," said Sam Moon GM, Donald Kim.
You are allowed a carry-on and a personal item so look for luggage that has both.
"What's nice about this is you can really maximize what you take onboard," said Donald, "The better bags will just have a feature on back where you will have a pocket and all you have to do is you will just unzip it or just slide it right over the handle, keeping it nice an secure. You can see it doesn't whip around the handle, making it a lot easier to travel with."
Most bags come with some sort of warranty. Donald says the best bet is "unconditional."
"An unconditional warranty covers anything, including airline damage.Iif you damage it, the great thing about that is you never have to keep proof of purchase, you never have to stand in line with the airlines. All you have to do is basically call the manufacturer and they will take care of it. They will instruct you on how to get that bag fixed," he said.
Donald also recommends getting items that are going to help organize. Sam Moon carries packing folders which allows you to keep all your garments nice and secure so they don't shift around and get wrinkled. There are also "packing cubes" which are for socks, underwear, accessory items. Donald says another popular item is the bottle set that comes with several bottles for you to put your shampoo, conditioner and other toiletries in.
For more information visit www.sammoon.com.