Deals Episodes
Budget Wine and Dessert Pairings for a Romantic Night In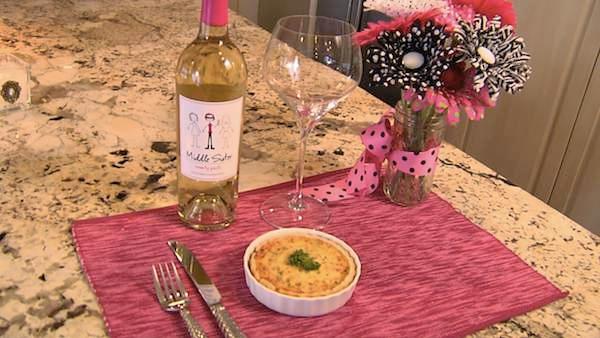 If you're looking to spend a romantic night in with your sweetheart, here are some inexpensive suggestions for putting together a wine and dessert that will feel like you're eating at a gourmet restaurant but won't hurt your wallet.
Goodtaste.tv host, Tanji Patton, says when paired properly, wine and desserts can create a gourmet experience right at home. Tanji is showing us how to inexpensively make beautiful desserts to pair with her favorite budget wines. So next time you're planning a fun party or getting your girlfriends together, or even just for yourself, here are some great desserts and wines to go with them that cost less than $10 a bottle.
Pairing 1: Cupcakes and Sparkling Wine
Dessert Suggestion: Cupcakes.
Buy regular size or the smaller sizes for a relatively inexpensive price. You can also make cupcakes yourself, but it does take time. If you buy cupcakes without icing or make your own, use a can of whipped cream to make an easy and delicious icing. Top your cupcakes with edible flowers (find them in the grocery store) for an elegant touch.
Wine Suggestion: Sparkling Wine.
Tanji suggests sparking and bubbles! Think Prosecco (from Italy) and Cava (from Spain), or domestic sparkling wines. There's always Champagne, but that can be hard to find for under $10. Typically, you want your wine to be sweeter than the dessert you're pairing up with. Sweeter desserts taste great if the bubbles have a high fruit profile.
Brands to Try:
Enza, Freixenet, Cupcake.
Pairing 2: Fruit Cones and Moscato
Dessert Suggestion: Fruit Cup Cones.
Make your own fruit cups with a beautiful presentation by putting fruit into waffle or sugar cones. You can get them at most any grocery stores, and they make a beautiful containers to build your fruit display. Add some mixed berries, some pineapples and strawberries - it's really just a matter of what you like. It's refreshing and light, and it costs less than a couple of bucks.
Wine Suggestion: Sweet wine or sangria.
The fruit is sweet so you don't want a wine that isn't sweet. You want something that has a lot of fruit profile to it.
Brands to Try:
Middle Sister Moscato or Epa Sangria.
Pairing 3: Chocolate and Pinot Noir or a Malbec
Dessert suggestion: Chocolate truffles.
Real chocolate desserts like truffles, cake or cookies fare much better with wine than chocolate candy bars. For an easy dessert, Tanji picks up some white and dark chocolate truffle balls at the grocery. For an elegant look, embellishes them with edible gold dust. You can get this at any craft store and the cost is worth it as one little jar last forever. While you have the gold dust out, you might as well add a little to your table flowers! Use old makeup brushes to apply just around the edges.
Wine Suggestion: Pinot Noir or Malbec.
Pinot Noir is not a classic pairing with chocolate, but Tanji says she has yet to find a food that Pinot Noir really doesn't pair with. Another one to pair with the chocolate is Malbec. Malbec is a good classic paring for chocolate. As long as our red wine doesn't have a lot of tannins, you'll be ok especially if you stick with dark chocolate. Milk chocolates are too sweet for wines. One good pairing rule of thumb to remember: as the color of the dessert gets darker, typically the wine gets darker too.
Brands to Try:
Middle Sister Pinot Noir, Liberty School Pinot Noir or Cupcake Malbec. For more from Tanji, visit
goodtaste.tv.