Deals Episodes
Bring Your Lunch to Work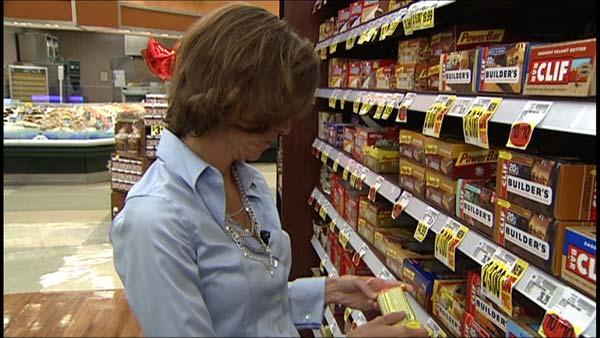 It's one of the first things we are told to do, if you are trying to save money -- pack your lunch. But making your own fresh lunch everyday is a hard habit to jumpstart!
"In all reality, we live busy hectic lives but we want to come up with things that we can grab on the go that are pretty quick and easy," says Registered Dietician Catherine Kruppa.
Kruppa says you can eat healthy and save money by grabbing the right frozen dinners and snacks.
"You can actually get healthy nutritious food from those frozen dinners, but they are quick and easy and all come in one box," says Kruppa. "For a frozen meal anywhere between 300- 500 calories are what you are shooting for. If you are a female, particularly trying to lose weight, probably closer to 300 calories. If you are more active or a male you can go up to 500 calories, anywhere between 6 - 9 grams of fat, keeps it at a low fat option. Frozen meals are not what they used to be. There are tons of options, and Kruppa's choices are about two dollars each.
"This is the Healthy Choice Pumpkin Squash Ravioli. As you can see on the front it has no preservatives, it's right at 310 calories, which is appropriate for a small meal. It contains squash, pumpkin inside the ravioli. We all love ravioli and then it throws in a green vegetable of asparagus as well, so the antioxidant is very high," said Kruppa.
"This chicken and peanut sauce is Lean Cuisine's spa menu which is typically lower in calories. It is full of vegetables - it has snap peas, carrots, water chestnuts, it's made with whole wheat pasta which makes it higher fiber and then with the chicken tenderloin which is a leaner cut of chicken which makes it very low in fat, only 6 grams of fat and also again, has that high fiber content which makes you feel full and satisfied," said Kruppa.
This "smart ones" meal even has added fruit.
"This is your orange sesame chicken which contains lean meat as well as rice as your grain, your vegetables peppers and oranges to give you the fruit as the added antioxidant in this meal. It's also low in calories and very low in fat as well," said Kruppa.
But watch out! Make sure to read the nutrition labels. Look what we found on a box of enchiladas.
"Even though they are in the natural food section, if you take a first glance at the nutrition label it shows that they are 240 calories," said Kruppa, "But if you look a little closer you will see the serving per container is two -- which means that they are really 480 calories and contain 28 grams of fat if you eat the whole box."
Kruppa says it's important to snack during the day to keep your metabolism up. Her advice, grab a nutrition bar.
"When you first step into this aisle with all of these nutrition bars it can be very overwhelming. Which one is the healthiest one to choose?" said Kruppa. "The one that kind of knocks the socks off all the other bars is the Kind bar. And the reason for that is it has lots of fruit. One has dark cherries in it, it has dark chocolate which we all love as an antioxidant food and it also contains cashews and almonds which are high in the antioxidant as well. So you are getting 50 percent of your Vitamin A, C and E all in this one bar that is less than 200 calories."
"The Fiber One bars are a great way to get some chocolate in you but also get a lot of fiber," said Kruppa, "These bars have 35 % of your daily fiber need for the day with a very tasty bar and help your sweet tooth as well. Fiber is good in a bar because it helps to fill you up, so that snack is going to last you longer."
"I particularly like Luna Bars because they are formulated for women and address some of the things that women are missing such as calcium, iron, vitamin D and foliate and also important for women," said Kruppa. "This bar it has 25 percent of your daily calcium needs, which is almost equivalent to a glass of milk."
All of these snack bars are a dollar or less each. Kruppa says it's also important to check the sugar content.
"Many of these bars are really high in sugar and don't have much else added to them, therefore they taste very good but they don't' keep you full and can cause your blood sugar to crash about an hour later," warns Kruppa. Here are even more picks from Kruppa and complete nutritional information for all of the choices.
Kashi Mayan Harvest Bake
Plantains with roasted sweet potato, black beans and kale. Spicy ancho sauce with pumpkin seed garnish served over Kashi seven whole grain polenta, plus amaranth.
Per serving: 340 cal, 9 g fat (2 g sat), 58 g carbs, 380 mg sodium, 8 g fiber, 9 g protein
Healthy Choice Pumpkin-Squash Ravioli
Scrumptious pumpkin ravioli plus asparagus and chunks of butternut squash.
Per package: 300 cal, 6 g fat (2.5 g sat), 52 g carbs, 600 mg sodium, 6 g fiber, 9 g protein
Lean Cuisine Chicken in Peanut Sauce
Tender chicken served over veggies and whole-wheat pasta, tossed with a taste-bud-pleasing Thai peanut sauce.
Per container: 280 cal, 8 g fat (1.5 g sat), 30 g carbs, 560 mg sodium, 5 g fiber, 22 g protein
Amy's Vegetable Lasagna
Organic pasta layered with cheese and organic vegetables in an authentic Italian sauce made from organic tomatoes. Worthy of the finest Italian restaurant.
Per container: 310 cal, 12 g fat (4.5 g sat), 35 g carbs, 680 mg sodium, 5 g fiber, 16 g protein
Smart Ones Fruit Inspiration Orange Sesame Chicken
Breaded chicken tenderloins in a zesty sesame orange sauce with rice.
Per container: 320cal, 8 g fat (1.5 g sat), 48 g carbs, 680 mg sodium, 2 g fiber, 14 g protein
Snack Bars
Kind Fruit and Nut Bars - Dark Chocolate Cherry Cashew
Yum, yum, and more yum! Made with big chunks of fruit and nuts, these taste like a granola bar should taste-but way better! Combines the immunity boosting antioxidant power of rich dark chocolate, cranberries and cherries with deliciously crunchable cashews and almonds. This is a decadent way to get 50% recommended Daily Value of Vitamins A, C and E.
Per bar: 170 cal, 11 g fat (5 g sat), 16 g carbs, 25 mg sodium, 5 g fiber, 4 g protein., 14 g sugar
Kashi TLC Layered Granola Bars Pumpkin Pecan
Each bar starts with our signature blend of 7 whole grains for a hearty, natural wholesomeness. Pie lovers will enjoy the sweet blend of pumpkin, real soft fruit and warm pie spices like cinnamon, nutmeg and ginger - all sprinkled with crunchy pecans.
Per bar: 120 cal, 3 g fat (0 g sat), 22 g carbs, 50 mg sodium, 4 g fiber, 4 g protein., 8 g sugar
Luna Protein-Cookie Dough
It's better than a candy bar (and better for you), plus the perfect marriage of protein and fiber will keep you full for hours. Chocolate chips and cookie-dough pieces swirled in soft nougat with a flourish of vanilla.
Per bar: 180 cal, 6 g fat (4 g sat), 21 g carbs, 230 mg sodium, 3 g fiber, 12 g protein, 14 g sugar
Quaker Fiber and Omega 3 Peanut Butter Chocolate Bar Price
Adding fiber to your diet has never been so yummy or easy, and with the added benefits of Omega-3, you can feel great about indulging with our rich and tasty Peanut Butter Chocolate Quaker Fiber & Omega-3 Granola Bars.
Per bar: 150 cal, 5 g fat (2 g sat), 25 g carbs, 35mg sodium, 9 g fiber, 3 g protein., 7 g sugar
Fiber One Chewy Bar Oats and Chocolate
Rich chocolate chips and all that fiber in one delicious bar. That means you'll be getting 35% of the daily fiber recommendation while you're busy enjoying an indulgent snack.
Per bar: 140 cal, 4 g fat (1.5 g sat), 29 g carbs, 95 mg sodium, 9 g fiber, 2 g protein., 10 g sugar
For more information about Catherine Kruppa, registered dietitian, visit www.adviceforeating.com.