Deals Episodes
Brides Across America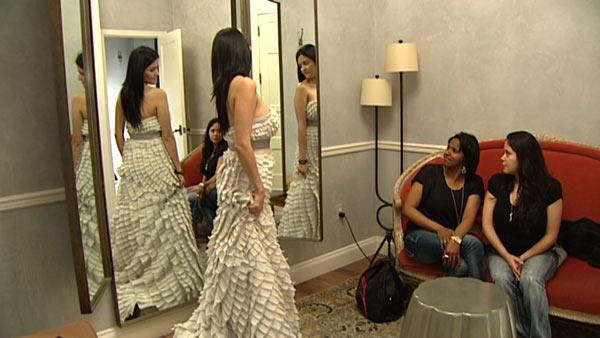 Brides Across America aims to take some of the financial burdens off of military families by providing free wedding dresses for brides-to-be.
Most of the gowns are donated by local bridal salons like BHLDN. To be eligible, applicants must be engaged or had a civil ceremony and are planning a wedding within the next 18 months. Also, either the future bride or her future husband have to have been deployed in specific regions within a certain amount of time.
If selected, lucky brides are scheduled for a fitting the day of the Brides Across America event in their city. And after waiting in line and traveling from near and far, the girls are ready to go.
"I'm beyond nervous and excited," said bride Carolyn Fowle. "On the bus ride here I was getting butterflies because I just don't know what to expect."
Bride-to-be Diana Areola brought her sister along for this unique shopping opportunity.
"I'm going to be her maid of honor in her wedding and I'm here to support her to help her find that perfect gown for her special day," said Cynthia Richard-Colunga.
Pepper Vincent enlisted her future sister-in-law to help.
"Her fiance is my little brother Michael and he's just head over heals for her," said Amy Pfeffer.
After a morning of shopping Carolyn and Pepper found the perfect dress for them. On the other hand, Diana didn't find a dress that fit her personality.
"I just want white, I waited very long for a white dress, I want white," said Diana, "White represents pretty and I always pictured myself in a white dress on my wedding. I like this, it's beautiful, and it's just not white."
While she might not find her perfect gown on this day, Brides Across America promises that every bride will get a dress for their wedding day. They are working with Diana to get her a dream white dress.
"Every bride should feel like the best version of themselves on their wedding day, like they have exactly what they want," said event organizer Callie Canfield, from BHLDN salon.
"I don't know who founded it, I don't know if they were a military spouse, but they sure know the military life," Carolyn said. "Sometimes it can be a lonely life and it's wonderful to see that there's such an organization that sees that and is willing to lend out a hand to people who are willing to put themselves into that kind of lifestyle."
"I think if I could sum it up in one word it would be gracious," said Callie, "The brides come in they are just so thrilled that people are thinking of them, they want them to have an amazing experience. They feel grateful that it's just one less thing they have to worry about from a financial perspective. It's a really wonderful experience."
For more information on Brides Across America, or to donate a dress to the organization click here: http://www.bridesacrossamerica.com/