Deals Episodes
Book Sale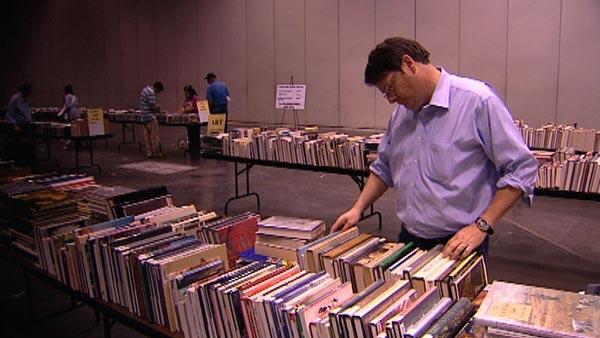 When libraries cycle out their old books each year, they often sell them to the public at rock bottom prices.
"It's a good deal, it's a very good deal," said shopper Ed Malmgren.
"You can find so many bargains, so many treasures, jewels, things like that," said shopper Tammy Brunson.
"This is a really good way of getting some good quality books," said shopper Mark Cotham.
"They are probably about 60,000 books here this year. The most we have ever had is around 100,000 -- often we have around 80,000," said Diane Durbin, with Friends of the Houston Public Library, "At this sale we have all kinds of books. We have reference books, religion, science fiction, cook books, how-to. We have a lot of how-to that's very popular."
Toting everything from suitcases to wagons to crates, dozens of people have been waiting and are ready to load up!
"They love to come the first day and have the pick of the crop," said Diane.
"Two dollars for a hard back, 1 dollar for paperback," said Tammy, "I've probably been coming here about 15 years, every year."
The key to success; come prepared.
"People come; they've been coming for years. They've brought garbage cans, suitcases, anything on wheels really," said Diane.
"First time I came without any of this," said Ed, "It was hard carrying books around in your arms."
"I think I came with a little bag and my arms hurt. So that's why I have a little red wagon and bags as well, I learned my lesson after the first year. I bought me a little red wagon and it's been coming with me every year since then," said Tammy.
"We've got this crate; I've got this container here. We will go through grab as many as we can.
And this book buying business can get intense!
"They are waiting for the sale to open. They'll rush in here," said Diane.
"When they cut that ribbon, you better be prepared to have your running shoes on or get out of the way and let the faster ones ahead. It's going to be like a marathon race is what it's going to be like, be careful," said Tammy.
"When they cut the ribbon everybody will rush out and try to go find the most expensive books first, but of course, it's kind of a guessing game," said Mark.
"It's a mad rush in the beginning, but everyone is friendly and nice," said shopper Joseph Beard.
Michelle and Joseph Beard buy and sell used books online.
"We have a cart, and some canvas bags," said Michelle, "They usually give us paper bags and boxes. He's going to be the on that carries the books for me."
"That's all I am, the muscle," said Joseph.
"We have a scanner that tells us what books are worth what. It tells us," said Michelle.
"She loves it, she's all into it you know, 'Oh look what I found, this is a great thing and only got it for a buck!' So, she loves telling family and friends about her finds over the weekend. Great to see a smile on her face, and we do this and maybe next weekend we do something I want to do," said Joseph.
Mark Cotham helps build libraries in Uganda. He buys books here and ships them over by the case load.
"This is a great source of books. Real inexpensive yet they are real up to date and new, colorful, exactly what the kids in Uganda need," said Mark, "This is a really good way of getting some good quality books. It's one of the most heartwarming things in the world to build a library over in Uganda. You show up and it's kind of like Christmas morning for an entire village. All of the kids are there and they are just absolutely delighted. The interesting thing working in Uganda is they speak English. It's not like you are trying to introduce a foreign language to them. The national language is English, so a lot of the folks really appreciate our books."
And, it's not just books for sale here. DVD's and CD's are a dollar. And, books on CD are two dollars.
"Most 'Friends of Libraries' all over the country have book sales. Some people actually take their vacations to go to book sales like this.
"Friends of the Public Library" is a non-profit group that supports libraries in almost all small and large cities.
"It is just a traditional fundraiser for these groups are to have a book sale. It's natural because there is a source for the books being the public libraries and it's great for the public libraries too because what would they do with all the books?"
It is a win-win for everyone.
"You can find a whole lot of treasures in here. It's fun, it's like a treasure hunt. It's like a scavenger hunt, I really enjoy it," said Tammy.
"It's great for the library and it's great for the friends groups and it's a source for raising funds, but it's also a way to get books to the people at a very reasonable price. Maybe people who couldn't afford books otherwise," said Diane.
If you are interested to see more about Mark C's effort to help build libraries in Uganda visit thezombobookproject.blogspot.com.
To see if there is a book sale like this in your area, contact your local library. Or, see if there is a "Friends" group and contact them. The website for more information www.ala.org/altaff.