Deals Episodes
Beauty Faves of Pro Cheerleaders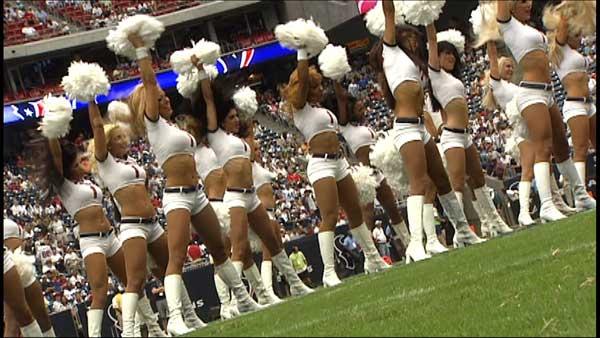 We all want our beauty products to be affordable and long-lasting. With so many bargain buys to choose from, how do you decide which ones are for you? We asked a group of women who have to look great for a living to share some of their favorites.
When it comes to looking great at the game, on the go or even at the gym -- pro football team cheerleaders always have to be camera ready because their fans notice.
The Houston Texans cheerleader beauty routine is not by accident. These ladies have tried everything from lip gloss to moisturizer and because they have frequent appearances, their products have to be affordable.
Amanda's favorite budget beauty product is chapstick.
"Not only is it really good for moisturizing and replenishing your lips, but I also use it as an eyeshadow concealer," says Amanda. "Eyeshadow concealers can cost you anywhere between $6 to $18 depending on where you get it, but what you can do is take a little bit of chapstick on your finger and smooth it over your eyelid and after you've applied a little bit of you chapstick then dust on your eyeshade and it lasts all day."
Megan's favorite budget beauty product when she doesn't have time to wash her hair is baby powder for 99 cents.
"If you had a sweaty day at the gym, you just pop it in the top of your head, just shake it all over and you don't even have to wash your hair." Says Megan.
Another winner -- Clean and Clear Dual action moisturizer for $5, it's Natalie's favorite.
"I swear by it," says Natalie, "You know your face gets really dry and you got to put something on before you put on your make-up, so I always put this moisturizer on because it's perfect. It goes on smooth, it's really good."
To get that photo finish look, Duyen loves airbrush legs by Sally Hansen.
"It's about $10 at any type of drugstore," says Duyen. "I love it because we aren't allowed to wear pantyhose in our photoshoots, so it definitely gives us that flawless look if you have any blemishes or stretch markes."
And to get that perfectly polished look like you just stepped out of a salon, Christina is a huge fan of "Kiss French Nails," for four dollars.
"They're glue on so if you don't have any money or if you don't have time to get your nails done, you can definitely stick these on super quick and they are easy and look real," says Christina.
More Texans cheerleader beauty tips:
Amanda -- CoverGirl Bronzer
Nicole -- L'Oreal Foundation
Megan -- Baby Powder
Twins Dresdynn and Schuyler -- Fix-It Spray
Natalie -- Clean and Clear Dual Action Moisturizer
Stephanie -- L'Oreal True Match Natural Blend Foundation
Kelli -- CoverGirl Outlast Lipstain
Amanda -- Chap stick
Christina -- Kiss French Nails
Duyen -- Airbrush Legs by Sally Hansen