Deals
Kat Cosley
Host of 'Deals'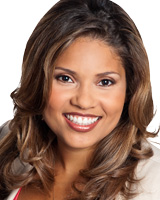 As a savvy consumer television journalist, Katishia Cosley, affectionately nicknamed "Kat", knows how to scratch beneath the surface and uncover unimaginable hidden deals for her viewers.
Growing up in a large family of 8, Kat learned first hand staying on a budget can be difficult. But, she also knows spending money wisely doesn't have to mean sacrifice. We can all live large and within our means.
Kat's unique childhood experience and interest in saving money led her to pursue enterprising television stories featuring straight forward "stretch-your-dollar" tips and easy to follow advice. Which is why Kat and "Deals" couldn't be a more purrfect fit! Each week on "Deals", Kat will help us Live Well for less by showing us where to find the best deals for all aspects of our lives.
Kat got her television start in Connecticut working in news at WFSB-TV. She made the jump to Marquette, Michigan as a TV journalist, and then back to Hartford, Connecticut. Her next move would take her to the fourth largest city in America, Houston, where she reported news for the top-ranked ABC Network Owned Affiliate KTRK-TV and also KIAH-TV.
No matter where she has called home, Kat is tirelessly involved in her community. She has served on the Board for the YMCA and as a facilitator for the Minority Achiever's Program. Presently, Kat is actively involved with Team First and Goal and The Houston Chapter of the Links, Inc. She is also a member of Alpha Kappa Alpha Sorority, Inc. A native Hoosier, Kat is a graduate of Indiana University and holds a Bachelor of Arts degree in Broadcast Communications.