LWN takes viewers on a wild ride with famed chef Ryan Scott's 'Food Rush'
All-New Series Following Scott's Action-Packed Culinary Life As He Juggles a Catering Business, Food Truck And the Opening of A Brand New Restaurant Premieres September 8, 2012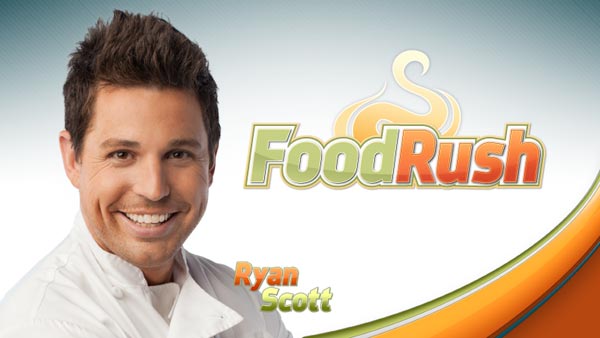 The Live Well Network continues to expand its original programming with the addition of FOOD RUSH to premiere September 8, 2012. The 30-minute series featuring San Francisco based Chef Ryan Scott takes viewers on an entertaining journey through his life as he juggles a catering business, food truck, and the opening of a brand new restaurant, all while sharing great insider tips on how to find, prepare, serve, and indulge in fantastic food.
FOOD RUSH reveals the behind the scenes drama of running multiple dining businesses in one of America's most food-centric cities - San Francisco. But the show does not stop there, sharing the challenges that come with balancing an intense professional life with family, relationships and friends. Along the way, Scott shares his best-kept secrets to make fun, creative and delicious dishes at home.
Industry insiders at San Francisco Magazine, USA Today and Zagat, among others, have celebrated Scott for his culinary accomplishments. His mainstream popularity continued to rise as he became a fan-favorite contestant on TOP CHEF (Bravo, Season 4) and winner of TOP CHEF HEALTHY SHOWDOWN (Bravo). Scott currently hosts his own radio show, Cooking with Ryan Scott airing on KGO 810 in San Francisco.
"Food has always been a passion for me and I'm thrilled to share my love of the industry, and all of the ups, downs and drama that come with it, with viewers all across the country," said Chef Ryan Scott. Scott added, "The Live Well Network is the ideal destination for this program and I look forward to sharing my story with their audience."
FOOD RUSH joins an all-star line up of original network programming that brings inspirational and entertaining lifestyle content, including MY FAMILY RECIPE ROCKS! hosted by Joey Fatone, WE OWE WHAT? with Mary Caraccioli and LIVE BIG WITH ALI VINCENT, to 64% of U.S. Households. As one of the fastest growing digital networks, the Live Well Network has nearly tripled in size since launching on ABC owned stations in 2009 and currently reaches 67 affiliate group stations including those operated by Scripps, Belo, Allbritton, Gannett, and many more.
"Chef Ryan Scott's culinary expertise paired with his dynamic personality is a valuable addition to our stellar line up of talent," said Peggy Allen, Vice President Programming for the Live Well Network. "We are excited to welcome a chef who has trained with some of America's most legendary talent and gained such critical acclaim to the Live Well Network."
The Live Well Network is operated by the ABC Owned Television Stations Group.
ABOUT THE LIVE WELL NETWORK:
The Live Well Network is the premier destination for lifestyle programming - featuring inspirational stories and covering today's hottest topics - to provide what viewers need, when they need it most. One of the fastest growing digital networks, the Live Well Network offers a wide range of entertainment-based programs, hosted by recognizable personalities including singer/actor Joey Fatone, the first female winner of "The Biggest Loser" Ali Vincent and financial journalist Mary Caraccioli.
Online, The Live Well Network features a variety of resources including hundreds of recipes, expert advice and complete videos of each show episode. The Live Well Network iPad app is also available.
ABOUT CHEF RYAN SCOTT:
Ryan Scott, contestant on Season 4 of Top Chef and winner of Top Chef Healthy Showdown, graduated from the prestigious California Culinary Academy in 2001. He went on to learn and cook with some of the country's most celebrated chefs including; Gary Danko in San Francisco, Daniel Boulud in New York, Peter Merriman and Alan Wong in Hawaii, Charlie Trotter in Chicago, and Suzanne Goin in Los Angeles. In 2007, Ryan launched Myth Café in San Francisco and within 3 months it was named one of the top dining destinations for California Cuisine by San Francisco Magazine. His passion for putting a twist on our favorite foods brought fame to Mission Beach Café in San Francisco where his culinary talents were recognized by USA Today and Zagat. Ryan currently runs two busy locations of his restaurant Market & Rye, a catering business, and food truck in San Francisco. As he juggles the demands of feeding thousands of people a week, Ryan also hosts a radio show, Cooking with Ryan Scott, and works with his charity, Harvest from the Heart.