Olga Villaverde
Host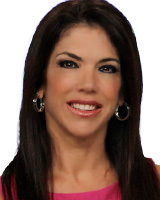 Olga Villaverde has brought her signature passion and enthusiasm to her role as co-Host at The Balancing Act for multiple seasons.
As Anchor behind the news desk and a reporter out in the field covering major stories like Hurricane Andrew and Katrina, to anchoring several morning shows, Olga has worked across America and brought a love of all news along with a wealth of knowledge and experience to The Balancing Act.
"I'm excited every day to talk to women across the country and make their lives easier, whether we are cooking up a new recipe or dishing on the latest in beauty or more serious subjects like innovations in breast cancer."
A native of Miami, FL Olga's career highlights include:
Graduated from the University of Miami with a Bachelor's Degree in Science and a minor in Communications.
Anchor, WPLG (ABC) Morning show in Miami
On-Air Host for KPRC (NBC) Morning Show in Houston
Changed careers after birth of first child to work as a medical representative for Wyeth Pharmaceuticals, focusing on women's health issues.
Olga is married and has two girls, Samantha and Daniella. The family lives in South Florida.