Julie Moran
Host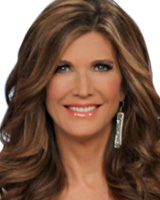 Julie Moran joined The Balancing Act as a Celebrity Guest Host for the Mother's Day Special in 2012 and from there launched her role as a full-time host for the show in early 2013.
From the Red Carpet at the Academy Awards® to the Grammy's to the world of Sports, Julie is no stranger to the entertainment world. Meeting and interviewing people from all walks of life, she brings her easy-going Southern style to the set every day.
Born in Thomasville, GA, some of her career highlights include:
Graduated with a Journalism degree from the University of Georgia
Won the title of America's Junior Miss
First female anchor to join ABC's "Wide World of Sports"
"Entertainment Tonight's" primary substitute anchor, weekend anchor, and senior correspondent Host for 7 years
Creator, Producer and Host of "The Insiders List with Julie Moran" on fine Living Network
"I'm a firm believer that women can have it all... just not all at the same time! That's why I love hosting The Balancing Act, to give women the latest information on the best ways to balance their own lives and for their families -- in their careers, and at home."
Julie will also continue to anchor our sister reality series Mission Makeover for her third season, leading six women on their 13-week journey towards a healthier lifestyle.
Julie, her husband actor Rob Moran, and their two daughters live in Atlanta.