Recipes
You'd-Never-Know-It's-Veggie Chili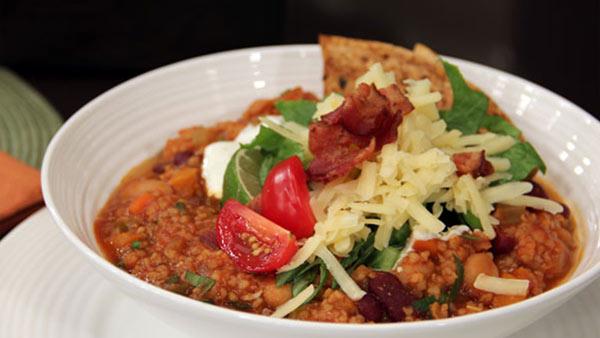 Servings: 4 to 6
Provided by: Joshna Maharaj
2 tbsp canola oil
1 medium onion, finely diced
2 stalks celery, finely diced
1 serrano or jalapeno pepper, finely chopped
6 pitted black olives, finely chopped
1 tsp each ground cumin, chili powder and dried oregano
3 cloves garlic, minced
1 medium bell pepper, finely diced
1 medium zucchini, finely diced
2 carrots, peeled and finely diced
1 can each kidney beans, chickpeas and white beans, drained and rinsed
1 can whole tomatoes, pureed
1 cup good store-bought salsa
kosher salt and freshly ground pepper
1 oz. bittersweet chocolate, chopped
1 cup bulgur wheat
1 small handful fresh coriander, chopped
1 small handful fresh parsley, chopped
zest of 1 lime
1 cup sour cream
cheddar cheese, shredded, for garnish
green onion, sliced, for garnish
jalapeno pepper, sliced, for garnish
crispy bacon, crumbled, for garnish
hot sauce, to taste
baked tortilla chips
Directions
1.Get all chopping out of the way, then you'll be able to assemble chili in no time.
2.Heat canola oil in a large soup pot over medium high heat. Add onion, celery, pepper and olives and season with a pinch of salt. Stir and sauté until celery and onion are translucent but not brown. Add spices and garlic. Cook, stirring frequently, for about 1 minute, until fragrant.
3.Add diced vegetables, all beans, puréed tomatoes, salsa, 1 1/2 to 2 cups water and a good pinch of salt and pepper. Stir to combine. Increase heat to high and bring to a boil.
4.Reduce to simmer and boil gently for about 30 minutes or until liquid has reduced slightly. Stir often to prevent chili from sticking to bottom of pot. Stir in chocolate until combined.
5.At this stage, chili should be relatively thin as you'll need a good bit of liquid for bulgur to soak up without drying out the rest of the dish. Add bulgur and stir. Cover pot and cook over low heat while bulgur absorbs liquid, about 15 minutes.
6.Add fresh herbs and stir once more to combine. Taste and adjust seasoning as necessary.
7.In a small bowl, combine sour cream and lime zest. Set aside.
8.Serve chili with dollop of lime sour cream, shredded cheddar cheese, sliced green onion and jalepeno, crumbled bacon, hot sauce and a handful of homemade tortilla chips.
Baked Tortilla Chips
12 6-in. corn tortillas
1/4 cup olive oil
1 tsp each ground cumin, chili powder and dried oregano
1.Preheat the oven to 350 F.
2.Mix spices together with olive oil. Lay tortillas in a single layer on a flat surface and brush with seasoned oil. Stack tortillas and cut into sixths to make chips.
3.Spread chips out in a single layer on two large baking sheets. Bake until golden brown and crisp, about 15 minutes, rotating baking sheets once.