Recipes
Roger Mooking's Jhalmuri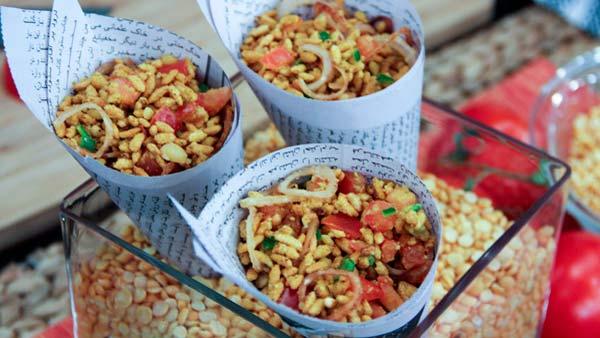 Provided by: Chef Roger Mooking
1/3 C Yellow lentils, cooked and pureed to a hummus consistency
1 tsp Mustard oil
1 Tbsp Mustard powder
1 Tbsp Curry powder
1 Shallot finely sliced
2 Thai green chilies, finely chopped
1 Tomato, finely diced
3 cups Puffed rice
Salt and pepper to taste
Directions
In a high-sided bowl, stir lentil puree, mustard oil, mustard powder and curry powder until well combined. Stir in shallot, chilies, and tomato until combined.
Add puffed rice and stir until all of the rice is coated with the lentil mixture. The mixture should not be clump together, otherwise add more puffed rice and combine.
Serve topped with crispy fried shallots.
Crispy Fried Shallots
2 shallots, sliced thin
1/2 cup all-purpose flour
salt and pepper to taste
vegetable oil, for frying

Thinly slice shallots and dredge in the flour, shaking off the excess before frying in the vegetable oil that has been heated to 325F. Fry until golden and crispy, drain on a dish lined with paper towels, and season with salt and pepper.