Recipes
Popcorn Soup with Cheddar Croutons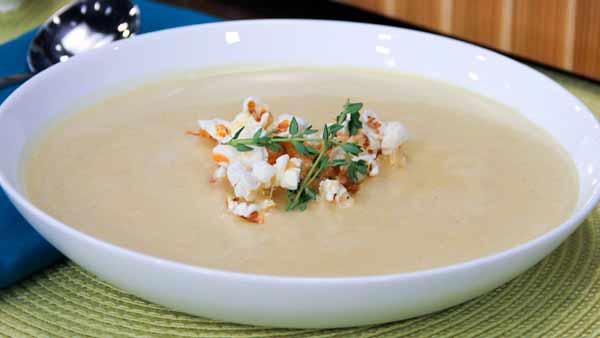 Provided by: Chef Cory Vitiello
1 small onion, small dice
1 leeks, white parts only, small dice
2 cloves chopped garlic
1 tablespoons + 2 tablespoons unsalted butter
2 sprigs of thyme, chopped
1 cup corn kernels
2 cups popcorn, popped
3cups chicken stock
kosher salt
black pepper, finely ground
pinch cayenne pepper
3/4 cup grated, old white cheddar cheese
Directions
In a heavy bottomed saucepan, heat 2 T of butter over medium heat. Add the onion, leek and garlic; sweat the vegetables for approximately 7 minutes, taking care not to brown them.
Add the corn, 1 cup of the popped corn, salt, pepper, thyme, cayenne and chicken stock. Cover with a lid and simmer for 30-40 minutes, adding more stock if necessary.
While the soup is cooking, take the remaining pop corn and place on a baking sheet. Sprinkle half the cheese on the pop corn and bake for 5 minutes in a 350F oven, or just long enough for the cheese to melt and slightly toast. Reserve for garnishing the soup.
Ladle the hot soup into a blender with 1 T cold butter and remainder of cheese. Blend on high until the soup is a velvety consistency. Adjust with salt and pepper. Serve straight away with the pop corn garnish.