Recipes
Peggy K's Sexy Mood-Boosting Cupcakes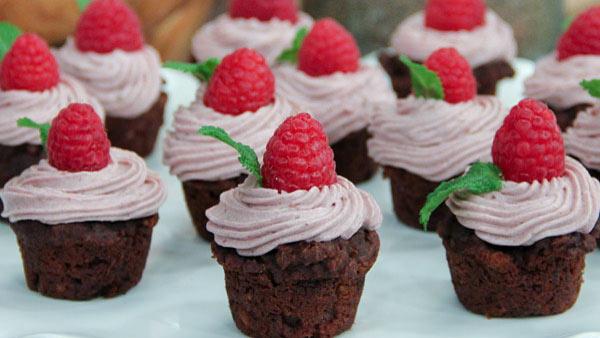 Provided by: Peggy Kotsopoulos
1 tablespoon ground chia
mixed with 1/4 cup water 1 1/2 ripe banana 2 tablespoons coconut oil
1/2 cup walnut butter
2 teaspoon s vanilla extract
1 cup almond milk
1/2 cup coconut sugar
1 cup brown rice flour
1/2 cup cooked quinoa
3 tablespoon maca powder
1/3 cup cocoa powder
1 teaspoon baking powder
1 teaspoon non-aluminum baking soda
1/2 teaspoon salt
chopped walnuts
Raspberry frosting (recipe below)
Directions
Preheat the oven to 350 F.
Place ground chia in a small bowl. Add warm water and mix with a fork. Set aside for gel to form.
Mash banana in large bowl then add oil, nut butter, vanilla and milk and stir to mix. Add the rest of the ingredients and mix until well incorporated.
Grease rubber mini muffin tins with coconut oil. Drop in batter and bake 25 -30 minutes, until toothpick comes out clean.
Raspberry frosting:
1 cups Raw cashews
1/4 cup maple syrup
1 cups raspberries
Almond milk
Add all ingredients to high power blender and blend until smooth. Add a splash of Almond milk just to blend the ingredients but frosting should be thick.
Transfer to piping bag and pipe onto cupcakes.