Recipes
Flexitarian Beet Pancakes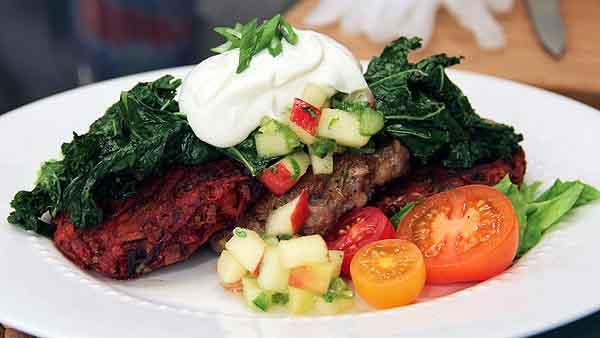 1 cup grated Yukon Gold potato
1 cup peeled, grated beet
1/2 cup peeled, grated carrot
3 green onions, thinly sliced
2 tbsp liquid honey
1/2 tsp salt
1/4 tsp freshly ground black pepper
1 green chili, minced
3/4 cup chickpea flour
1 egg, lightly beaten
vegetable oil, for frying
garlicky kale
apple salsa
1 lb. sausage meat (optional)
1/2 cup non-fat plain Greek yogourt, sour cream or crème fraîche (optional)
Directions
1. Preheat oven to 400 F. Using a SpongeTowel, squeeze excess water out of potato, beet and carrot until dry. Combine veggies with onions, honey, salt, pepper and chili in a large bowl; toss until incorporated.
2. Add flour and egg, and mix until ingredients can be formed into four patties, roughly 1/2 cup each. Add a tsp of water if needed.
3. In a large high-sided sauté pan with a lid, heat 1/4-in. oil over medium heat. Cover and cook pancakes until slightly crisp on bottom; flip and cook other side until crisp (roughly 4-5 minutes per side). Covering will keep steam in and help to cook those firm root vegetables through.
4. Remove from heat and transfer pancakes to a parchment-lined baking sheet. Bake in oven for about 8 minutes, until pancakes are cooked through and vegetables are soft. 5. Optional: Form sausage meat into 4-oz. patties. Heat 1 tbsp vegetable oil in a non-stick skillet over medium-high heat. Fry patties for about 5 minutes, turning once, until golden brown and cooked through.
6. Top pancakes with sausage patties, if desired, and serve with a small pile of garlicky kale, a spoonful of apple salsa and a dollop of yogourt, sour cream or crème fraîche, if you like.