Recipes
Donut Hole Tree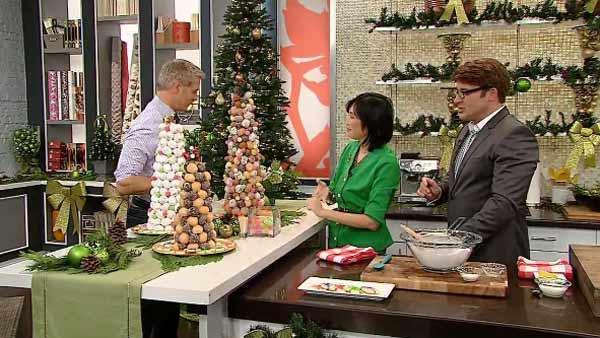 1 styrofoam cone in size of your choice (see note below)
plastic wrap
decorative ornament pick for top of cone, preferably without glitter (optional)
decorative plate
latex gloves
round barreled toothpicks
assorted doughnut holes (see note below)
gumdrops, 1/3 the number of doughnut holes used (optional)
Note: Cones and number of doughnut holes required to fill
12-in. high, 4-in. diameter base: 7 dozen doughnut holes
18-in. high, 5-in. diameter base: 11 dozen doughnut holes
24-in. high, 6-in. diameter base: 22 dozen doughnut holes
Directions
To assemble a doughnut hole tree, wrap the cone in plastic wrap (Note: Don't remove the original plastic the cone may have come packaged in, but remove labels before wrapping with additional plastic wrap. A double layer of plastic keeps the Styrofoam from coming loose). Insert decorative pick in top of cone, if using. Set on decorative plate.
Pull on latex gloves. Beginning at the bottom of the cone, pierce toothpicks about 1/2-inch from the bottom and leave about 1-inch of toothpick exposed. Push doughnut hole onto toothpick. Check that the toothpick is covered. Continue in a ring around the bottom of the cone, nestling doughnut holes together as tightly as possible. Continue with a second ring above the first ring, staggering the placement of the toothpicks and doughnut holes so as to fill in as much space between doughnut holes as possible -- as in a bricklaying fashion. Continue attaching toothpicks and holes up the cone to just under the decorative pick -- or finish with a doughnut hole on the top. Note: As you work nearer to the top of the cone where it thins out, it may be necessary to break toothpicks in half.
If attaching gumdrops, insert toothpicks every couple inches in between doughnut holes and sticking out just past the holes. Press a gumdrop onto each toothpick. The gumdrops will stick out further than the doughnut holes. Cover the "tree" all over with gumdrop "ornaments".
"Trees" can be made several hours ahead of a party (avoid making a day before in order to have doughnuts as fresh as possible) and loosely wrapped in plastic to keep doughnuts fresh.
Click here for recipe for present cookies to go under the donut tree.