Recipes
Dish Do-Over: Chicken Fettuccine Alfredo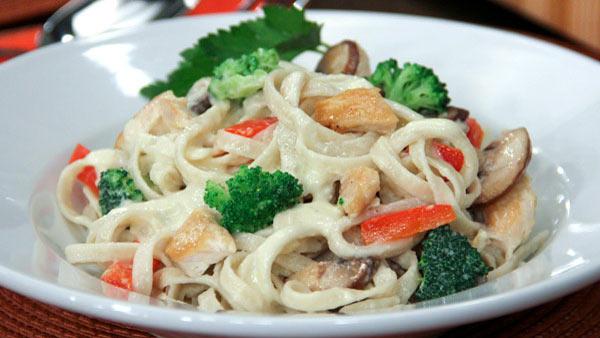 Servings: 8
Provided by: Chef Jo
1lb brown rice fettuccine noodles (or whole wheat fettuccine)
2 tbsp olive oil
1 medium onion, finely diced
2 cloves garlic, minced
3 tbsp rice flour (or whole wheat flour)
1 bay leaf
2 sprigs fresh thyme
2 small yellow zucchini, shredded (2 cups)
1 cup each low-sodium chicken broth and 1% milk
1 &frac12
cups shredded parmesan cheese
&frac14
cup non-fat plain Greek yogurt
Sea salt and freshly ground black pepper to taste
Pinch nutmeg and cayenne
1 tbsp olive oil
2 cloves garlic, minced
2 boneless skinless chicken breasts - 5oz each, thinly sliced
2 cups broccoli florets
2 cups sliced cremini mushrooms
1 red pepper, thinly sliced
Directions
First, prepare sauce. Heat olive oil in a medium saucepan over medium-high heat. Add onion and garlic; cook for 3 minutes, stirring constantly until translucent. Stir in flour and continue to cook, stirring for about 1 minute until flour is light brown. Stir in bay leaf, thyme, zucchini, chicken stock and milk. Bring to a boil, reduce heat to medium and simmer for about 10 minutes. Remove bay leaf and thyme. Stir in parmesan cheese and yogurt; puree in a blender or directly in pot with an immersion blender until smooth. Season with salt, pepper, nutmeg and cayenne. Keep warm and set aside.
While sauce is cooking, prepare pasta as per package instructions, drain well, rinse, and toss with olive oil. Transfer to a tray to cool. Reserve pasta pot for reheating pasta later.
Meanwhile, in a large non-stick skillet over medium-high, season chicken with olive oil, garlic, salt and pepper. Cook chicken for about 2 minutes until golden, stir in vegetables and cook for an additional 4 minutes, stirring frequently until vegetables are al dente. Stir 1 cup of sauce into vegetables until coated.
Return pasta to pot and stir in remaining sauce. Gently stir pasta and cook over medium-high heat until pasta is hot. Transfer to serving bowl and top with chicken and vegetables!
Nutrients per serving Calories: 438, Total Fat: 13 g, Sat. Fat: 5 g, Carbs: 52 g, Fiber: 7 g, Sugars: 7 g, Protein: 28 g, Sodium: 384 mg, Cholesterol: 39 mg
Before:
Calories - 910
Fat - 52g
After
Calories - 438
Fat - 13g