Recipes
Devilled Giant Spider Eggs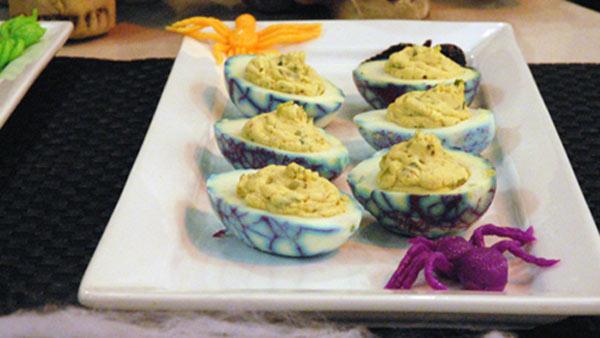 Provided by: Kary "Dorothy" Osmond
1/4 tsp (1ml) black paste food coloring
12 eggs
1/4 cup (60ml) finely diced celery
1/4 cup (60ml) finely diced sweet gherkin pickles
1/4 cup (60ml) mayonnaise
2 Tbsp chopped green onion (green part only)
1/4 tsp (1ml) chipotle chili powder (or chili powder)
1/4 tsp (1ml) salt
Directions
In saucepan, whisk food coloring with 6 cups (1.5L) water. Add eggs; bring to boil. Remove from heat; cover and let stand for 10 minutes
Using slotted spoon, transfer eggs 1 at a time, to paper towel. Using handle of wooden spoon, tap each egg gently in several places to crack shell without completely splitting. Transfer eggs to large bowl; cover with cooking water, refrigerate until cool, about 1 hour.
Peel eggs and halve lengthwise. Arrange whites on platter; transfer yolks to bowl.
Add celery, pickles, mayonnaise, onion, chipotle powder and salt to yolks; mash to combine, adding more mayonnaise if desired. Spoon or pipe into egg whites.
**Cracking the shells then submerging them in dye gives the eggs a cool spider web pattern.