Recipes
Cauliflower Kale Gratin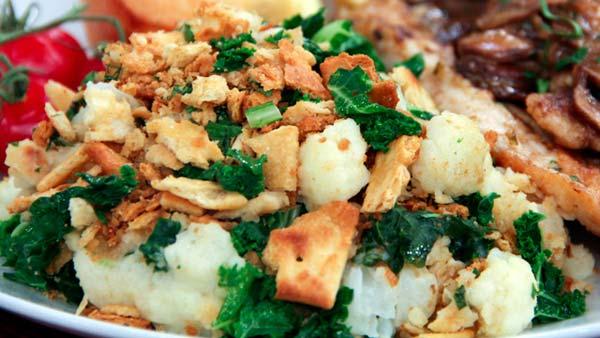 Servings: 4 - 6
Provided by: Chef Joshna Maharaj
3 lb cauliflower (about 1 large head), cut into 1 1/2 - 2 inch florets
1/2 bunch kale, stems removed and leaves sliced into 1/2 inch ribbons
1/4 cup unsalted butter
2 tbsp all-purpose flour
11/2 cups whole milk
6 oz sharp cheddar (about 2 cups), coarsely grated
1/2 cup finely chopped scallion greens
1/2 tsp salt
1/2 tsp black pepper
20 (2 inch square) saltine crackers
Directions
Preheat oven to 450 degrees F. Butter a 2-quart shallow baking dish and set aside.
Cook cauliflower in a 5- to 6-quart pot of boiling salted water until just tender, 6 to 8 minutes. In the last 2 minutes of cooking, add the kale to the pot and stir well. Drain cauliflower and kale well in a colander and transfer to baking dish.
While cauliflower cooks, melt 2 tablespoons butter in a 3- to 4-quart heavy saucepan over moderately low heat and whisk in flour. Cook roux, whisking, 3 minutes. Add milk in a slow stream, whisking, and bring to a boil, whisking frequently. Reduce heat and simmer sauce, whisking occasionally, 8 minutes. Remove from heat and add cheese, scallion greens, salt, and pepper, whisking until cheese is melted. Pour cheese sauce over vegetables and stir gently to combine.
Coarsely crumble crackers into a bowl. Melt remaining 2 tablespoons butter in a small saucepan. Pour over crumbs and toss to coat.
Sprinkle crumb topping evenly over cauliflower. Bake gratin until topping is golden brown, about 10 minutes. Enjoy!