Steven and Chris
Jillian Harris' Holiday Design Tips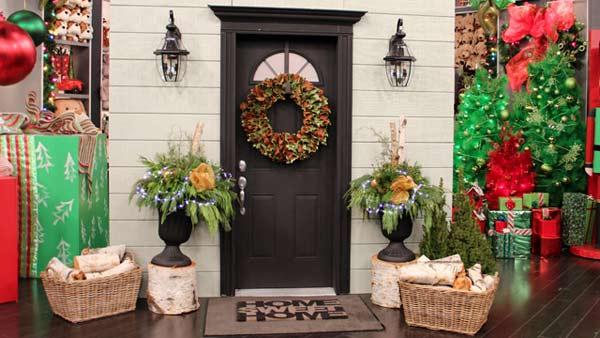 Christmas decor no longer has to be kitschy and predictable. As Jillian Harris shows us, swapping out a few key items can add a little glitz and luxury to your home, taking you right into the New Year.
Front Door
Sources: Wreath, Yang Flowers; Mat, Home Depot; Decorative Mat, Urban Barn, Urns, Canadian Tire
The front of your home is the first thing guests see when they come to visit for the holidays. Make it festive!
For your front entry, think of hanging a natural magnolia wreath. It's subtle and sophisticated, making the perfect first impression for your guests. Make sure to swap out your regular door mat for something with Christmas cheer. The one we chose here feels oh so welcoming. Plus, the addition of birch wood logs in oversized baskets is the perfect touch of winter white.
Foyer
Above: Antlers, Homesense, Candle Sticks, Teatro Verde, Throws and Bench, Urban Barn, Hat, Bag, Coats, Designers Own.
The foyer can become a dumping ground for coats, hats and wet boots but with a few simple touches it can become a fantastic, festive and welcoming space, just like the rest of your home.
If you have room for a chair or bench in your entry, go ahead and layer in a faux fur throw with a hand knit blanket to make your home warm and cozy instantly. A natural red and green wreath elegantly thrown onto a silver deer head dresses up your normal artwork and doesn't seem too over the top. You can also use a few beautifully wrapped presents in the same color palette as decor touches. A gorgeous bow ties the look together.
Powder Room
Sources: Mirror, Art, Homesense, Towel, Anthropologie, Soap Dish, Waste Basket, West Elm
Don't forget to glam up your powder room for the holidays. This room is often overlooked but one your guests will be using frequently in your home.
Make it shine with metallics. Add a little glamour to your soap dish and waste basket during the holidays -- or all year-round! Also make sure that your powder room is stocked with nice towels and lots of high quality toilet paper. Trust us -- everybody will thank you!