Steven and Chris
Holiday Gift Ideas from Etsy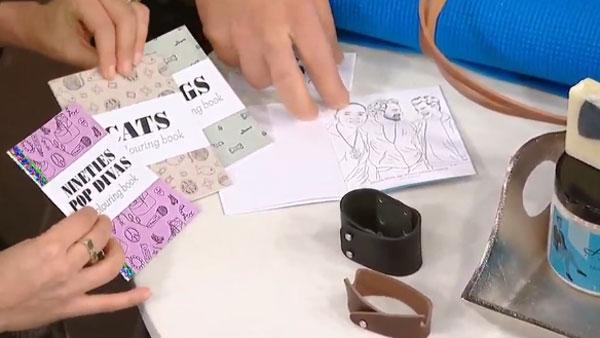 Shopping Expert Erin Green shares some great holiday gift ideas from Etsy - a wonderful space where small artists and makers sell their creations directly to you, the buyer.
FOR WOMEN:
Sugar Blossom
A former international model turned fashionista - this artist blends old and new to create beautiful pieces that are a blend of rough and tough metal, with soft, pretty textiles.
Foe and Dear
Delicate, artful pieces of jewellery made by combining vintage and new elements to create one of a kind pieces. Foe and Dear experiments with unique materials ranging from brass to 14-karat gold and precious stones for a blend of mystery and romance, each piece is handcrafted and made with love from start to finish.
OhKuol
Handmade gemstones and druzy jewellery that sparkle from a mile away. These pieces are beautiful and unique and would make a great gift for any fashionista in you life!
Opelle
Beautifully crafted, handmade leathergoods.
Stepcat
Knitwear of the highest quality and made with love these pieces will get you through the coldest winter in style!
FOR MEN:
These mens products have a more functional theme - they each serve a purpose, but do it in a way that's artful and high design.
Oopsmark
A designer, engineer and musician this artist is a jack of all trades who calls his pieces tools for urban living. A really slick and modern esthetic combined with the warmth of leather makes these pieces unique and interesting. He's recently collaborated with organizations as varied as: Cirque de Soleil, a Genetics Lab, Crudessence, Santropol Roulant & Rise Kombucha
Aidebodycare
The skin is the largest organ in your body and this maker focuses on all natural ingredients to ensure you're using the finest ingredients on the outside of your body as you are on the inside. There are great soaps and men's grooming kits that have whimsical designs that would make the perfect gift or stocking stuffer for the man in your life!
TeamArt
A great duo who collaborate to make whimsical themed colouring books for a fun, artistic stocking stuffer for the man with a sense of humour.
FOR KIDS:
3Princesses
Started by a couple with three little girls of their own, this artist makes handcrafted wooden teethers that are beautiful and functional.
yarning.made
Modern, bold, hand knit pieces for babies and the home. Absolutely beautiful and definitely so original in design.
FOOD:
cocoa and honey
Organic and artisanal chocolates that are made with locally sourced coffee, produce and herbs. So delicious - you need to try the truffles!
Jaswant's kitchen
When you order these spices they come packaged with recipes mailed direct to your home and make cooking traditional Indian food from scratch a snap!
HOME:
The pieces around your house should make you feel good. Check out the stores below for the perfect hostess gift or more great pieces to add to your home.
Cattails Woodwork
A touch of nature for your home this artist uses select wood species obtained from sustainable and eco-friendly sources and makes each piece by hand. Whether it's a beautiful rolling pin, cutting board or rustic coat rack they've got someone for everyone.
LoveLoveMeDoDesigns
This shop specializes in custom wedding stationary and greeting cards. They've created beautiful holiday cards that add a unique and special touch whether you're sending a gift, a hello for the holidays or an invitation to a holiday party!
Art that Moves
This artist hand prints original designs on various textiles that are meant to bring uplifting, positive energy to all rooms in your house. Whether it's fabulous bread bag, or festive tea towels these pieces add a festive touch of whimsy to the kitchen.
TENandCOMPANY
The co-founders joined their love of design, clean living and pretty pieces when creating their company. They care about the planet and try to source locally whenever possible. Their Swedish sponge cloths are made from cellulose and absorb 15 times their own weight in water they're also reusable, quick dry, biodegradable and cute to boot!
kraze4paper
For the crafty person in your life here you'll find unique wire wine glass charms, scrapbook embellishments, cards, mini albums and other paper goodies.