Steven and Chris
Holiday Beauty for All Ages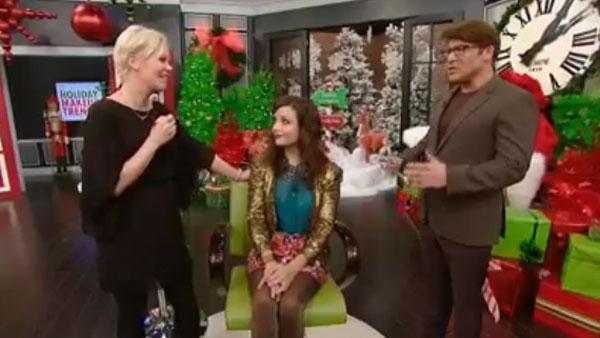 MAC Senior Make-up Artist Caitlin Callahan says the holidays are a time to bring out that dramatic version of yourself and have some fun with makeup.
She highlights her three favourite trends:
THE KITCHEN SINK!
Don't be afraid to go bold - do up all of the features on your face for a very Studio 54, but still sophisticated look.
Tips:
for a symmetrical red lip start in the centre of the mouth and blend down.
for additional drama add a touch of gloss to the center of the lip - it will blend and move naturally itself.
Products Used: M·A·C Cosmetics Lipstick in M·A·C Red, M·A·C Cosmetics Lip Pencil in Vino,
THE SOFTER SIDE OF HOLIDAY
A twist on a classic: a smokey eye with shading and highlight on the face. But not your 80s contouring!
Tips:
The modern smokey eye doesn't need three or four different eyeshadows. Sometimes a creamy pencil is enough!
Modern contouring uses a creamy highlight along the cheekbone which makes for prettier and softer photos.
Cream products blend better when they are INSIDE the brush, not sitting on top. And always use soft brushes - the softer the brush, the softer makeup will look on your face.
Start shading under the cheekbone by the ear and blend off the face to avoid any lines on the face.
Products Used: M·A·C Cosmetics Cream Colour Base in Hush, M·A·C Cosmetics Powder Blush in Harmony, M·A·C Cosmetics Pressed Pigment in Damson
3. TINSEL TOWN
Everyone can wear a little bit of sparkle - no matter what your age!
Tips:
Primer is a great way to maintain the "bounce" on the skin - it's also great for on the go touch-ups too.
Use your finger to touch the glitter onto your lid - tape makes for easy cleanup if there's any wayward glitter.
Products Used: M·A·C Cosmetics Iridescent Powder/Loose in Silver Dusk, M·A·C Cosmetics Prep + Prime Natural Radiance, M·A·C Cosmetics Glitter in Reflects Antique Gold,
Final Tip:
Take your time! And take a photo with a smart phone or nice camera to see how you look - cameras can see more than our eyes. That will prevent any makeup mishaps we have seen on the red carpet!