Steven and Chris
Chris Hyndman
Host of Steven and Chris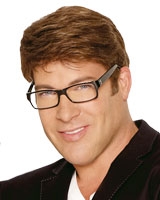 Chris Hyndman is the host of the Steven and Chris television show on the Live Well Network. Chris passed away August 3, 2015.
A native of Newfoundland, Chris was influenced early on by his mother's sense of style and love of her home -- a constant work in progress! As an only child, he often was involved in his mother's design projects. Even at a young age, he understood that color was often the lifeblood of a room, bringing a vital energy to everyone who entered. If furniture was placed in a jammed or cluttered pattern, somehow that was how everyone would feel in that room.
Chris officially brought his innate design ideals into the professional arena more than 15 years ago when he teamed up with Steven Sabados to form The Sabados Group Inc., specializing in event planning, product launches and set design. Together, the duo shared responsibility in the creative planning, project management and public relations for events including the launch of Toronto's Eye Magazine and set design for City TV's Fashion Television, Movie Television and Much Music.