Steven and Chris
Steven Sabados
Host of Steven and Chris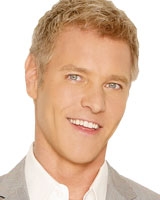 Steven Sabados is the host of the Steven and Chris television show on the Live Well Network.
Steven is not only a designer but a self professed free spirit as much in tune with a client's state of mind as he is with their floor-plan. A proponent of design great Philippe Starck, Steven loves to reinvent the wheel with each new project. "Starck really set the benchmark for modern designers with his ability to combine classic luxury with ultra contemporary forms." He recalls. "I love taking the mundane and transforming it to a showpiece."
Born in Canada surrounded by the breathtaking natural drama of Niagara Falls, the lush colors and rich textures of the great outdoors have often served as inspiration for Steven's design passion. He recalls his childhood home being defined by his parents' love of the arts and design and influenced by his grandmother, a long-time art patron with a flair for oil painting -- a talent she passed on to the young Sabados.