Recipes
Twin-Suns Toast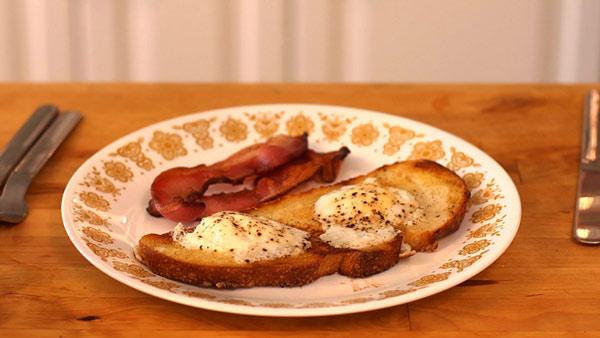 Difficulty: Easy
Time:
Provided by: Steve Sansweet
Butter (used organic Clover butter, our local dairy)
Bread large enough for two 2" diameter holes (used sourdough)
Small or medium eggs
Directions
1. Cut two 2" holes in each piece of bread with a cookie cutter.
2. Melt a generous amount of butter -- 3 to 4 tablespoons -- in a non-stick pan over medium-high heat.
3. Place bread in pan and brown on one side.
4. Using tongs, turn bread over in the pan. Add more butter to pan if needed.
5. Carefully break one egg that is at room temperature into each hole.
6. Turn heat to low and cover pan with lid.
7. For runny eggs leave lid on 2 minutes, 3 minutes for medium eggs, 4 minutes for well done.