Recipes
Tom Ka Gai Soup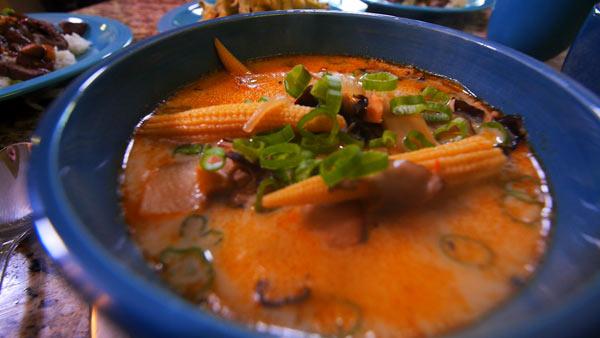 Servings: 8
Difficulty: Intermediate
Time:
3 16 oz cans coconut milk
1 large boneless skinless chicken breast
1/4 pound Shitake mushrooms
1/4 pound Wood Ear mushrooms
1/4 pound Enoki mushrooms
1/4 pound Oyster mushrooms
1 small can bamboo chutes (rinsed)
2 cans baby corn (rinsed)
1 cup water
3 yuzus
6 lime leaves (Kaffir or Thai lime leaves)
2 tbl spoons lime juice
2 tbl spoons lemon juice
1/8 cup Miso Easy sauce
Garlic chili paste
Paprika
Sesame oil
Cayenne pepper
Chipolte powder
Dry mustard
2 Jalapeno pepper
2 shallot
2 to 3 oz fresh ginger
1 brown onion, chopped
Kosher salt
Chili oil
Coleman's mustard
Scallions
1 packet of Japanese mushroom powder
Directions
1. Saute mushrooms in a hot pan in some canola oil. When cooked down, put them in a large stock pot.
2. In a separate pan, sauté ginger, shallot, onion and jalapenos together in some canola oil. Add kosher salt, chili oil, paprika, chipolte powder and cayenne. And then add to mushrooms.
3. To the stock pot add: Cooked chicken, water, coconut milk, baby corn, bamboo shoots, mushroom powder and heat to a simmer.
4. Add juice of the yuzus, lime leaves, fresh lime juice and Miso Easy sauce.
5. Continue to simmer soup until flavors are blended, taste and adjust seasoning.
6. Simmer for 20 minutes.
7. Serve garnished with sliced scallions.