Recipes
Tiramisu Parfaits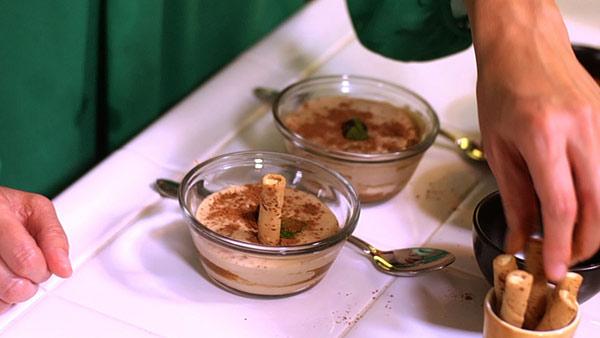 1 Package of Danesita Lady Fingers (Grind in food processor, set aside)
1 container of mascarpone cheese (8oz)
1/2 cup sugar
2 teaspoons of vanilla
2 dashes on cinnamon
1/4 cup of espresso
Directions
Grind the lady fingers in a food processor and set aside.
Mix together the mascarpone cheese, sugar, vanilla, cinnamon and espresso.
Put a layer of the lady fingers crumbs (1/2 tablespoon) into a small bowl and then layer the mascarpone mixture on top (about 1 1/2 to 2 tablespoons). For the next layer, start with lady fingers crumb and then top with 1 teaspoon of espresso over crumbs prior to layering the mascarpone mix. Continue until you get to the top of the bowl.
Refrigerate for 3 hours.
Topping before serving:
4 teaspoons of cinnamon
2 tablespoons of cocoa powder
1 tablespoon of the dark chocolate World Market cocoa mix
Sprinkle the top of the parfaits with the topping mix, garnish before serving with a World Market chocolate covered espresso bean, a mint leave and cookie.
For more information on the Cost Plus World Market products used visit worldmarket.com.