Recipes
Skirt Steak with Massaman Sauce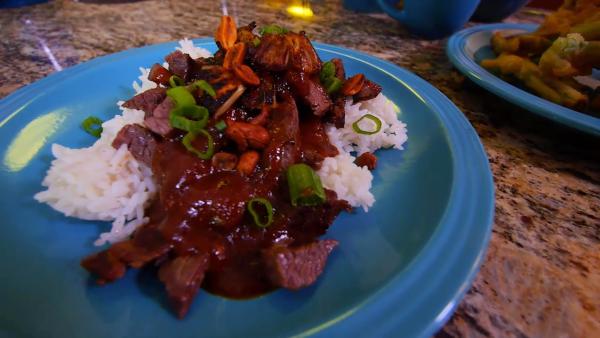 Servings: 6
Difficulty: Intermediate
Provided by: The Ace of Cakes, Duff Goldman
2 skirt steaks, cut into 1" x 2" slices
1/2 pineapple cut in chunks
1/2 jalapeno pepper, sliced
2 tablespoons chopped ginger
2 tablespoons sesame oil
1/2 shallot, chopped
1/4 brown onion, chopped
1 teaspoon paprika
1 teaspoon curry powder
Thai red curry sauce
1/8 cup brown sugar
1 1/2 cup peanuts
Kosher salt
Directions
1. Sauté pineapple until charred and caramelized. Then add a few of the onions, shallots, ginger slices, and jalapeno slices left over from the soup recipe and saute down.
2. Combine peanuts with a touch of sesame oil, salt, paprika and curry powder. Mix together and place on cookie sheet in oven for 15 minutes at 400 degrees.
3. Add 8 oz. of Thai red curry sauce to mixture of pineapple and vegetables and sauté some more. Add 1/8 cup of brown sugar and when peanuts are done add and blend all together until creamy. Sauce is ready.
4. Cut skirt steak into small strips and cook on high heat in dry pan for 6 to 8 minutes or until meat looks cooked through, season with a little kosher salt.
5. Plate cooked beef over bed of white rice and drizzle with Massaman sauce. Dish is then ready to serve.