Recipes
Seared Tuna with Brown Butter-Yuzu Sauce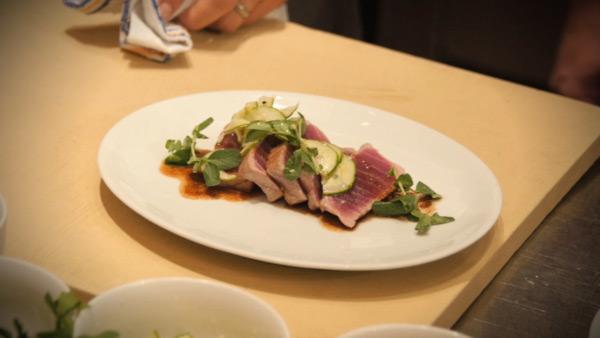 Servings: 2
Difficulty: Easy
Provided by: Chef Aram Mardigian
2 each tuna steaks
1/2 cup unsalted butter
1/2 cup low sodium soy sauce
1/4 cup yuzu lime juice
1 tsp aromatics (equal parts minced garlic, ginger, shallots, and scallions)
Salt and pepper to season the tuna
Directions
1.) In a hot sauté pan with cooking oil, sear tuna on all sides until golden brown and still rare in the middle.
2.) Let rest for about 2 minutes and then slice and place on desired serving plate.
3.) In the same pan, add the butter and let it melt and sizzle until it starts to turn brown. This will happen in a few seconds depending on how hot your pan still is from cooking the tuna.
4.) Add the aromatics and let sizzle a bit. Quickly add the soy and yuzu juice and let reduce and come together.
5.) Pour over the tuna and serve immediately.
6.) Garnish with some sliced cucumber and cilantro and radish.