Recipes
Sauteed Florida Grouper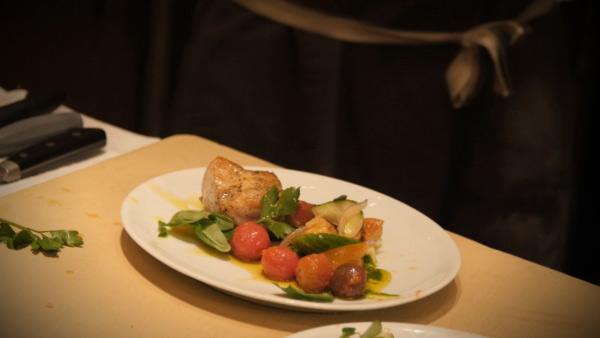 Difficulty: Easy
Provided by: Chef Aram Mardigian
1 each grouper filets (5-7oz)
2 T cooking oil
Kosher salt and black pepper to taste
2 Heirloom tomatoes (or just good quality tomatoes cut in to wedges)
1 Cucumber peeled and seeded and cut into thick slices
1/4 Medium sized Red onion sliced thin
Basil leaves
Italian parsley leaves
Garlic croutons
Red wine vinegar
Extra virgin olive oil
Parmesan cheese as needed
Directions
1.) In a hot saute pan with cooking oil, sauté the grouper filet opposite the skin side until golden brown.
2.) Place on a sheet pan and cook to doneness on a 350 to 400 degree oven (about 6-7 minutes to have it just cooked through).
3.) In a mixing bowl combine the tomatoes, cucumbers, onions, croutons, basil and parsley.
4.) Add desired amount of vinegar and oil ( I use only a splash of vinegar and about 3 T of olive oil).
5.) Season with salt and black pepper to taste.
6.) Place on a serving plate of your choice and shave some fresh parmesan cheese over the top.
7.) Place the fish alongside of the salad and drizzle some more good olive oil over the fish. (a squeeze of lemon is nice also).