Recipes
Salmon Stuffed Puff Pastry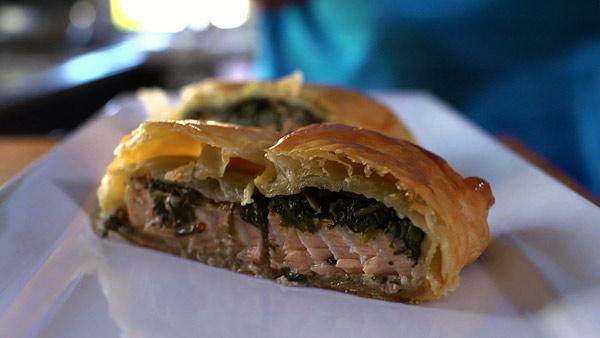 Servings: 4
Difficulty: Easy
Time:
5 tablespoons Extra Virgin Olive Oil
1 large shallot
1 large clove of garlic
1 bag of fresh baby spinach (6oz), pre-washed
1 sheet of frozen puff pastry
Flour, for dusting
Fresh salmon (about 13oz)
Stone ground mustard (with whole mustard seeds)
1 egg whisked in a small bowl for the egg wash
Salt and pepper to taste
Directions
Over low heat, preheat your pan and add the olive oil. Mince the shallot first and add it to the pan. Then mince the garlic and also add it to the pan. While these gently cook, chop the spinach (stems and all). Just as you start to see the garlic turning a light golden color, add the spinach, a pinch of salt and pepper, and then raise the heat to medium. Toss and cook thoroughly (about 5 minutes), adding another few pinches of salt and pepper to taste. When done, strain the spinach well. A "ricer" over a bowl is a good minimally messy way to do this. You press the spinach in the ricer and then set it aside.
Begin defrosting one frozen puff pastry sheet at room temperature (takes about 15 minutes) and preheat your oven to 400 degrees. Meanwhile, lightly dust your cutting board and rolling pin with flour. Next, prepare the salmon by removing the skin (and pin bones if necessary). Then, trim the salmon filet to into a rectangle about 4x5 inches in size (if your fish is cut into steaks already, you can push two of them together). Season both sides of the salmon with salt and pepper (the thicker the cut, the more seasoning). Then, evenly spread about 2 tablespoons of mustard on the top side of your salmon.
If the puff pastry is cool to the touch and somewhat pliable now, then it's ready. Unfold it onto a cutting board and then roll it out to about 1/8" thick. Transfer the dough to a half-sheet pan lined with a silicone silpat or parchment paper. Place your salmon in the center of the puff pastry, mustard side down. Spread another 2 tablespoons of mustard on the top side of the salmon and then add a layer of the drained spinach about 1" thick.
Now, wrap up the salmon as if it's a present. Trim away any excess pastry dough (most likely on the sides) and then brush the seams with egg wash so they stick together. Crimp the sides and then brush the top with egg wash as well. After baking in the oven for about 20 minutes at 400 degrees, turn tray and continue to bake another 15 minutes. Remove once the pastry turns a nice golden brown (about 35 minutes in total). Slice with a bread knife and serve (careful not to crush the puff pastry when cutting).