Recipes
Pasta and Zucchini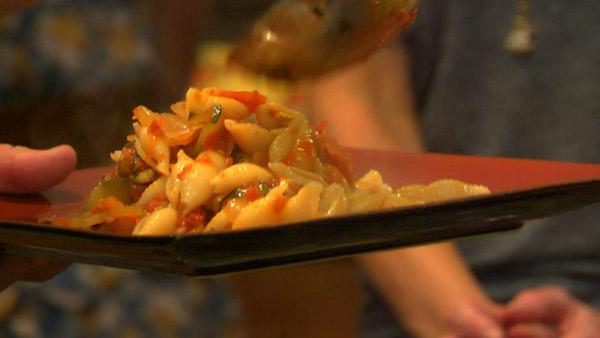 Servings: 4 - 6
Difficulty: Easy
Time:
Provided by: Frankie Moreno
1 Pound of Medium Shell Pasta
2 large cans (28oz) Italian Style stewed tomatoes -- lightly blended
1 large can (28oz) Whole Peeled tomatoes -- lightly blended
3 cups Zucchini -- thinly sliced
Chicken Broth -- 32 oz.
3 tbsp. Extra Virgin Olive Oil
1 Onion -- Chopped
8 Cloves of Garlic -- Chopped
1 tbsp. Salt
3 tbsp. Butter
1 tsp. Dried Oregano
1 Handful of Fresh Basil -- Chopped
1/2 cup Red Wine
Grated Parmagiano Reggiano Cheese
Directions
Coat saucepan with olive oil on medium heat. Add garlic and onion. Cook until garlic is golden and onions are soft. Add tomatoes, salt, butter, oregano, basil, and red wine to sauce pan. Bring to a boil, and then add chicken broth and zucchini. Cook on medium heat until zucchini is tender.
Bring large pot of lightly salted water to a boil. Add pasta; cook 8-10 minutes until just tender. Drain pasta thoroughly and combine with sauce.
Top with grated parmagiano reggiano cheese. Salt and pepper to taste.